Saab shows off 9-4X and 9-3 ePower Concept at Los Angeles auto show
There's a lot riding on the shoulders, er, fenders of the 9-4X.
Since Saab split from GM, the crossover debuting today in LA is only the second release for the now Spyker-owned company. Built on the new
Cadillac SRX
platform, the 9-4X will feature a 265-hp, 3.0-litre V6 or a 300-hp, turbo 2.8-litre V6 underhood and an available Haldex all-wheel drive system. It will share similar design cues with the
9-5 sedan
, and features a well-appointed cabin.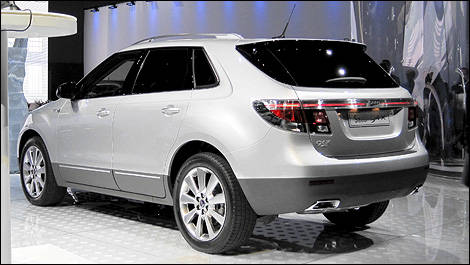 Saab 9-4X (Photo: Lesley Wimbush/Auto123.com)
The 2012 Saab 9-4X will be produced in Mexico, and is expected to go on sale in North America next spring.
The Saab 9-3 ePower is the very first electric vehicle from Saab. It's a collaboration between Saab Automobile, Boston Power (batteries), Electroengine in Sweden AB (electric power trains), Innovatum (project management) and Power Circle (Sweden's electric power industry trade organization).
Based on the 9-3 SportCombi wagon, the ePower has a 135-kw/184-hp electric motor with a single speed transmission. Under the floor pan, the 35.5-kWh lithium-ion battery pack helps provide a lower centre of gravity and excellent weight distribution.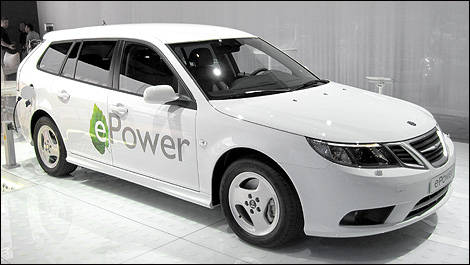 Saab 9-3 ePower (Photo: Lesley Wimbush/Auto123.com)
The prototype for a test fleet of 70 vehicles set to begin evaluation in Sweden, the 9-3 ePower claims 0-100 km/h acceleration in 8.5 seconds, with a top speed of 150 km/h. The ePower has a project range of approximately 200 kilometres and can be fully recharged in three to six hours.
Saab Automobile CEO Jan Åke Jonsson claims that "by 2015, annual global sales of electric vehicles are expected to reach 500,000 units and Saab is determined to be represented in this important, growing segment."