Every fan of "Grease" knows the song that begins with "Summer loving" as it accompanies one of the classic parts of this classic movie: the two lead characters musically reminisce about their summer love story. One enjoyed a romantic fairytale and the other, a platonic relationship. In both cases, it all ended when they returned to school in September.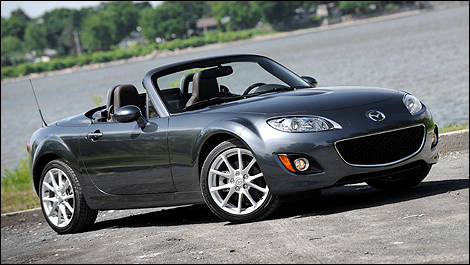 As far as automobiles go, the MX-5 is the queen of summer fun. (Photo: Matthieu Lambert/Auto123.com)
That perfectly illustrates my experience with the 2010
Mazda MX-5 GT equipped with a power retractable hardtop (PRHT)
.
As far as automobiles go, the roadster formerly known as Miata is the queen of summer fun. The spirited driving dynamics, sweet-sounding engine and one-touch folding top make for unforgettable times. Too bad I had to return the car back after a week!
A little kart
With regard to styling, the third-generation MX-5 has grown substantially in size since the latest redesign. It's by no means a large two-seater, but the generously-stretched hood contributes to a strong, commanding presence on the road.
While you can't mistake the MX-5 for anything else when you look at it from behind, the front fascia could not be more Mazda, especially with the new corporate "smile" that essentially serves as an oversized air intake.
The PRHT allows you to enjoy this baby regardless of the weather or temperature. The egg shell look (top up) is a bit of a turnoff, though. No problem: just push the button and the top will magically disappear into the trunk in 12 short seconds, unveiling the iconic convertible that remains the best-selling roadster of all time.
It goes without saying that tall drivers won't find much comfort inside the MX-5, particularly with the roof in place. Despite the recent (slight) expansion, the car is still pretty tight and narrow, requiring some elaborate moves to dive into the buckets or climb out of them. Now, if you're like me, meaning a tad overweight, those moves become painful contortions.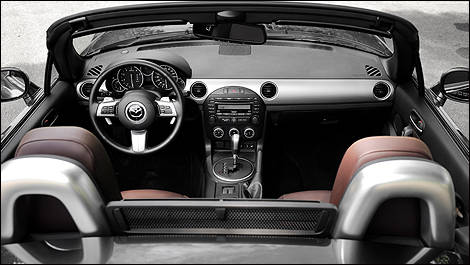 The cockpit of the MX-5 looks fairly plain, by the way. (Photo: Matthieu Lambert/Auto123.com)