The
Kia POP
is but one of many urban mini-car concepts that were unveiled at this year's Paris auto show. Coined by Kia as being "a striking vision of future urban electric transport", the POP's styling is meant to be window into the future's future of automotive design.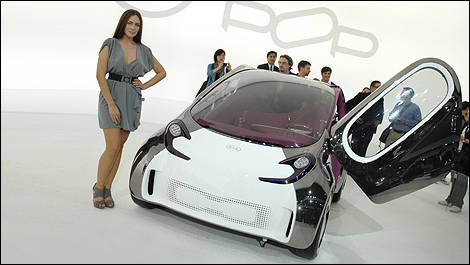 Photo: Matthieu Lambert/Auto123.com
The POP stands out physically thanks to its striking oblong-shaped side-windows, the dot-pattern grille and taillights. The full-length glass roof and the original look of the wheels are all part of the POP's outside-of-the-box or outside the usual automotive spheres inspiration, as Peter Schreyer, Kia Motors Chief Design Officer, says.
The POP has numerous interior features that are very sci-fi. Just beyond the steering wheel sits a Transparent Organic LED (TOLED) on small piece of plexiglass-glass. This display shows a speedo, a battery charge gauge and other vital bits of information. The whole of the cabin is one solid colour and the capsule/cocoon-like environment could be right out of a spaceship.
As part of a major trend at the Paris show, the POP is also a fully-electric, zero-emissions vehicle. It is propelled by a 50kW, 190Nm electric motor and holds its charge in a highly efficient, compact lithium polymer gel batteries. On a single charge, which only takes 6 hours to complete, the POP has a very decent range of 160km.
As a strictly city-bound car, the POP's outer dimensions make it ideal for the increasingly congested roads of today's and tomorrow's big metropolises. Its overall length of 3,000 mm may be 305 mm longer than the
smart fortwo
but then the POP has room for a third passenger.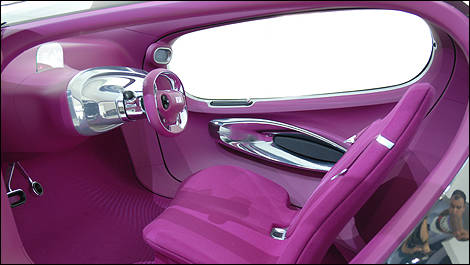 Photo: Matthieu Lambert/Auto123.com