'More' power is the best kind of power-- but in today's motoring world, less weight is equally as important.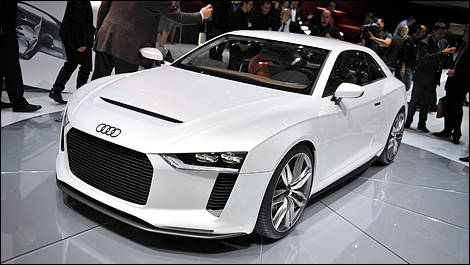 Photo: Matthieu Lambert/Auto123.com
Audi's latest concept, the Quattro, just hit the stage at the Paris Motor Show boasting a combination of increased power, reduced weight, and a bib-wetting array of German-car performance goodness.
Sources say the new Quattro concept is based on the
Audi RS5
-- though it's had 150mm hacked from its wheelbase and 40 mm shaved from its roofline. The V8 engine from the RS5 (which hits Canadian roads next year) has been axed in favour of a tweaked-up version of the
TT RS
's five-banger turbo engine with a smidge over 400 ponies. The concept featured Quattro All Wheel Drive (duh!) and a six-speed stick (hurray!).
Inside, the Quattro gets a simple and elegant cabin with a slender centre console, race-inspired gauges and an MMI central command knob. In all, the driving environment is 'reduced and focused', furthering the model's goal of keeping weight down to increase performance. In fact, the seats weigh just 40 lbs each-- which is less than half the weight of a normal production seat.
All the weight-saving interior work combine with aluminum-intensive construction and carbon-fibre components keep the Quattro light and lively. Would-be drivers can expect 0-60 runs in under 4 seconds. That's plenty fast-- and since this concept is based on a heap of existing Audi hardware, there's something of a chance it could actually hit production, too.
Of course, there's nothing official on that front-- and for now, this new Quattro concept simply intends to pay modern-day tribute to a winter-busting, track-attacking piece of driveline hardware that's made Audi famous.
Photo: Matthieu Lambert/Auto123.com