The lines suggest the
911
and captivate the eye. They also leave people unfamiliar with the brand quite confused. Move to the side of the new
2010 Porsche Panamera 4S
and you'll immediately scratch your head upon noticing that this 911 in disguise actually has four doors!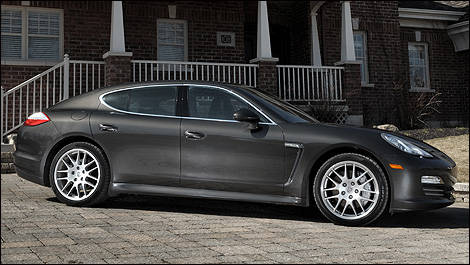 Malgré la ressemblance, la Panamera a son identité propre. (Photo: Matthieu Lambert/Auto123.com)
The scarab-shaped sedan, Porsche's first-ever example of the genre, does remind us of the stylish
Bugatti EB112
that Giugiaro designed for Romano Artioli, then owner of the legendary make founded by Ettore Bugatti. This one-off saloon was unveiled at the 1993 Geneva Motor Show.
Seventeen years later, the Panamera looks just as classy and timeless. For sure, though, it can't be mistaken for anything else on the road right now. While similar in size to a Mercedes-Benz CLS550,
Audi A8 4.2
and Maserati Quattroporte S, the sensuous bodywork with ultra-short overhangs proves unique and distinctive.
Roomier than you think
The arching roofline caps a roomier interior than what is initially perceived. The front-passenger quarters carry a true cockpit feel with a plethora of controls and switches (thank God, smart ergonomics make them easy to get used to).
Purists will feel right at home, too. The ignition switch is mounted exactly where it belongs — to the left of the steering wheel. In addition, soundproofing is excellent, so much so that you can even hear the tic-tac of the analog clock at up to 50 km/h!
Finding your way to the rear seats requires a lot more flexibility. The high sills and narrow door openings complicate things quite a bit. Once you've finally settled in, however, you enjoy a great amount of support as well as generous room for the feet, hips and head.

Muscle and restraint
A few seconds on the road is all it takes the Panamera 4S to display its superb balance. My tester relied on the same 400-horsepower V8 engine as the Porsche Cayenne, with 368 pound-feet of torque (from 3,500 to 5,000 rpm) for good measure.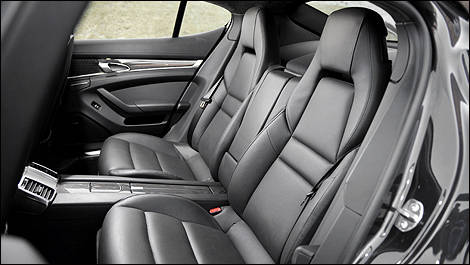 Finding your way to the rear seats requires a lot more flexibility. The high sills and narrow door openings complicate things quite a bit. (Photo: Matthieu Lambert/Auto123.com)