Ford Motor Company is surfing on a wave of success. In February alone, sales were up by 51 percent in Canada. "And just in Quebec, we're talking nearly 80 percent," insists Ford Canada president,
David Mondragon
, who attended the inauguration of the 2010 Quebec City Auto Show.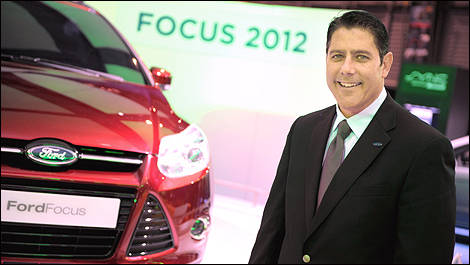 Photo: Matthieu Lambert/Auto123.com
His presence was a notable one, as presidents and CEOs of car companies seldom pay a visit to minor shows like Quebec City's. "The Quebec market, including right here in Quebec City, is way too important for us to neglect it. There's still a lot of work to do and I'm here to contribute," claims Mondragon.
The blue-oval brand therefore went to great lengths to position Ford as a leader in La Vieille Capitale. The stand is set up as a giant floating car (specifically designed with Quebec City in mind, or so says the president) which houses, among others, the upcoming
Ford Fiesta
and
Ford Focus
, the latter making its first official appearance in the province. And don't look for trucks because there aren't any; Ford strategically chose to display cars only.
"People already know that Ford is building the best trucks in the world, but they don't quite realize yet that we also offer some of the best cars out there. We want to show them just how good we are, and I bet the streets of Quebec City will be filled with Ford cars within the next year," adds Mondragon.
The future in the world of Ford
According to him, the current products really strike a chord with consumers and meet their needs like few others can. That doesn't mean Ford won't keep expanding its lineup, though. For instance, we know that the 7-passenger C-Max is coming our way later this year, as is the redesigned Expedition.
Unlike Europe, however, there are no plans yet for a Focus Wagon in Canada. "While it's true that our global vision leads us to offer vehicles that do a better job of meeting people's needs, the United States remains a non-friendly market for wagons. Unfortunately, Canada has to stick to that reality. Quebec is different for sure, but the limited market size does not justify bringing in a wagon," tells the president of Ford Canada.
As for the green future of the automobile, David Mondragon is calling on governments more than the industry. "Short term, the solution is gasoline engines and, to some extent, hybrids," he says. "From there, we will go in the direction that governments point us. If they choose to support a natural gas infrastructure, we can work on that. If it's electricity, we'll go electric. We have the technology to pull off anything, but we'll make a move only when and if the conditions are right."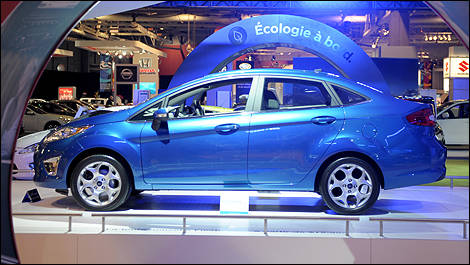 Photo: Matthieu Lambert/Auto123.com