As reported by Nissan
Mississauga, On
- Infiniti's flagship sedan, the all-new
2011 Infiniti M
, made its Canadian debut today at the Canadian International Auto Show in Toronto. The new M impressed spectators with everything Infiniti is known for - style, performance, luxury, craftsmanship and technology.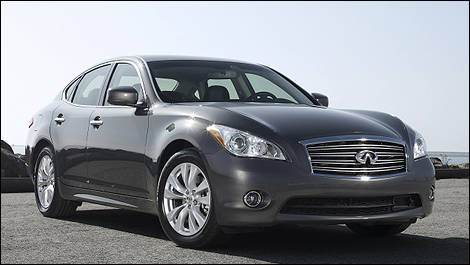 2011 Infiniti M (photo: Nissan)
"The 2011 Infiniti M embodies all of our best thinking, design and quality to date," said Wendy Durward, Director, Infiniti Canada. "It builds on the strengths of the previous generation, delivering a performance luxury experience crafted to a higher standard."
With more power, better fuel economy, magnetic design, luxurious interior and the world's first Blind Spot Intervention(TM) System, the all-new Infiniti M56 and M37 feature an all-new 5.6-litre V8 engine and refined 3.7-litre V6 engine respectively. Starting at $52,400 (M37) and $66,200 (M56), the new M is also a showcase for Infiniti's advanced, user-focused technologies which include Infiniti Drive, Active Noise Control, Blind Spot Warning (BSW), Blind Spot Intervention(TM) (BSI), Forest Air(TM) and Eco Pedal.
The
Infiniti Essence Concept
, which served as the blueprint for the new M designers and engineers, was also on hand for its regional debut. The Essence is a front-engine, two-seat, 592-horsepower, rear-wheel drive luxury coupe concept with an awe-inspiring design that serves as an exciting exploration into the brand's future.
"The flowing wave profile, razor-sharp line in the upper body and rear section concave scoops are all expressions of several key values of Infiniti design - Energetic Force, Seductive Lustre and Spiritual Precision," said Durward. "Essence is also a preview of Infiniti's new gasoline/electric hybrid drivetrain, making it capable of high speeds when conditions allow and zero emissions when they don't."
Infiniti also showcased its new 2010 G lineup which received a number of enhancements from the previous generation including revised exterior styling for the G Sedan, enhanced interior treatment and upgraded technology features for the G Sedan and Coupe. Also on display was the Infiniti G37 Anniversary Art Project Vehicle, which was inspired by Cirque du Soleil and designed by Montreal-based artist Heidi Taillefer.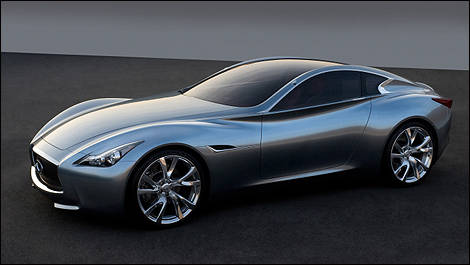 Infiniti Essence Concept (photo: Nissan)
photo:
Nissan