Toronto show visitors will get a chance to check out the re-invented
Buick Regal
, a car that demonstrates the new global focus of automakers, and one destined for
Canadian production
in 2012.
The Regal nameplate has been missing from the Buick catalogue. It was last used in 2004 on a FWD midsize sedan, based on the Century. The Century/Regal combo was essentially replaced by the Allure, which has since been essentially released by the all-new LaCrosse.
But before it went FWD, Regal was a largish, personal luxury RWD vehicle. Its most famous iteration during that era was the hairy-chested Regal Grand National, which featured a macho turbo-charged V6.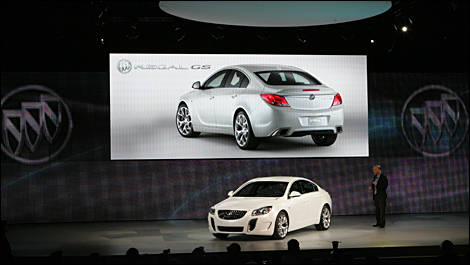 Photo: Philippe Champoux, Matthieu Lambert/Auto123.com
The new Regal is closely based on the Opel Insignia, known for its excellent driving dynamics — it was named 2009 European Car of the Year.
Insignia, Regal, LaCrosse, and the upcoming Cadillac XTS are all, or will be, based on versions of this Insignia platform (now called Epsilon II).
When Regal arrives on Canadian dealer lots in mid 2010, it will be powered by GM's 2.4-litre direct-injection four-cylinder engine, with 182 hp and 172 lb-ft of torque.
Later on it will add a sportier model featuring a 2.0-litre turbocharged four (also with direct injection), with 220 hp and 258 lb-ft of torque — a model that will no doubt resurrect Grand National sentiments.
The new Buick Regal is already selling great in China, where it was introduced last year.
One more country gets a piece of the new-Regal story — Canada. When GM received restructuring money from the Canadian government last year, it promised to build three future models here — the Regal is one of those models. An Oshawa plant will start Regal production some time in 2012.
photo:
Philippe Champoux, Matthieu Lambert