As reported by Nissan
MISSISSAUGA, ON
, - Today, at the Canadian International Auto Show (CIAS) in Toronto, Nissan Canada presented two vehicles that show the true range of possibilities within its lineup - the 2010 Nissan cube(R) 1.8 S Krom(TM) Edition and a one-of-a-kind Stillen GT-R.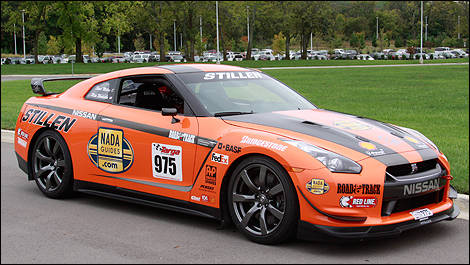 Nissan Stillen GT-R (Nissan)
"At Nissan, we pride ourselves on having something in our lineup for everyone, and these two vehicles are great examples of that commitment," said Jeff Parent, Vice President of Sales and Marketing, Nissan Canada. "Cube Krom is perfect for the city driver who wants a fun, unique and fuel efficient car with lots of added personality. On the other end, this special
GT-R
has been customized for raw power and performance. We have both ends of the spectrum here today, as well as everything in between and next year, we'll also be adding the new
Nissan LEAF
, which will provide consumers with a true zero-emissions option."
The new cube(R) Krom(TM) features exclusive exterior and interior treatments, elevating cube's unique styling to a sportier, more aggressive dimension. Krom(TM) Edition adds a new distinct chrome grille, rear roof spoiler, front and rear bumper fascias, body side sills and exclusive 16-inch aluminum-alloy wheels to the cube. On the inside, the cube(R) Krom(TM) offers unique seat trim with woven black and grey seat cloth, Titanium interior trim accents, sporty aluminum trimmed pedals and a 20-colour interior illumination system. Krom(TM) will be in dealerships soon with an MSRP of $23,098.
The Stillen GT-R was created in 2009 when race car driver Steve Millen and his Stillen crew completed a tear-down and build-up of the world-famous sports car for the Targa Newfoundland race. The modifications made the GT-R lighter (172 lbs/78 kg less) and faster, performing it's run from 0 to 60 mph in an amazing 2.9 seconds. Of course, this GT-R is not available for sale, but can be seen on display at the CIAS, and then on track at the upcoming Targa Canada West event in B.C., May 24, 2010.
The Nissan FCV (Fuel Cell Vehicle) X-Trail cut-away model is also featured as part of the Transport Canada display at the Metro Toronto Convention Centre's South Building, and illustrates Nissan's foray into the zero emissions segment.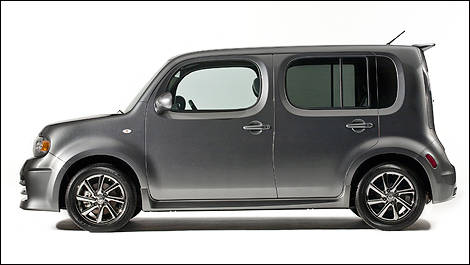 Nissan cube Krom (Nissan)
photo:
Nissan canada
2010 Nissan cube 1.8 S Krom Edition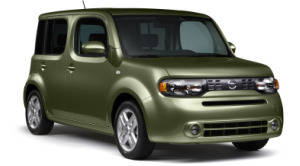 2010 Nissan cube 1.8 S Krom Edition
2010 Nissan GT-R