Tuesday, the premier automotive showcase in Western Canada, the 2010 Vancouver International Auto Show, will open its doors to a public eager to discover the world's most spectacular new cars. This year again, show organizers have managed to build within this major event several special exhibits!
One of them is the auto show's highly popular SuperCars showcase. This year, it will feature the greatest combined value of luxury vehicles in the event's history. This showcase of the fastest, sleekest and sexiest automobiles will have a total combined MSRP in excess of $2.8 million!
Ford Concepts Give A Look Into The Future
Concept cars also attract a lot of attention from show goers. This year, Ford and Lincoln showcase two innovative vehicles as part of the Marketplace area of the event.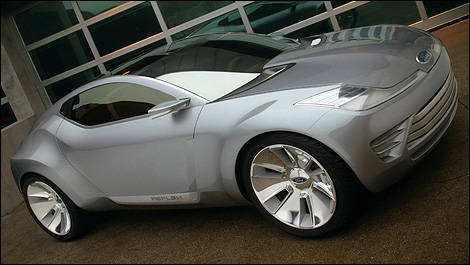 Ford Reflex Concept (Photo: Ford)
The Ford Reflex is one. This sporty coupe appeals to the "small is big" trend is powered by an advanced diesel-electric hybrid engine. When it was originally unveiled at the 2006 Detroit Auto Show, this concept made the headlines for features such as solar panel-powered headlights, an integrated child seat, inflatable rear safety belts and an interior quieted by recycled Nike athletic shoe outsoles.
The other car of tomorrow that will be on display is simply called "C" and it bears a Lincoln badge, something rather unusual because of its size. Aimed at urban, upscale consumers, the
Lincoln C concept
showcases the company's signature design DNA on the smallest Lincoln ever, a C-segment-sized vehicle (the size of a Ford Focus). Now you know where the name came from! Shown for the first time at the
2009 Detroit Auto Show
, this Lincoln concept features a 1.6-litre Ecoboost engine mated to a Powershift transmission. The bulk of the car lays very low to the ground and a low-slung shoulder line with a wheel-at-each-corner stance supports a dynamic, elegant, spacious cabin inspired by contemporary urban lofts! To facilitate ingress/egress, the C has center-opening doors and no B-pillar… just like the 1961 Continental. Another classic in the makings!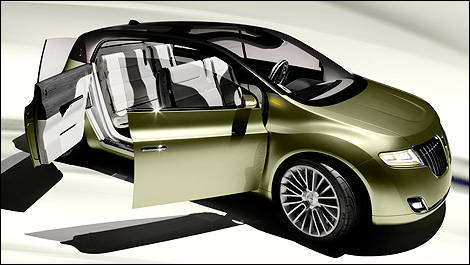 Lincoln concept C (Photo: GM Canada)