For a compact wagon, the Golf really does spoil its occupants with its ability to absorb bumps without transferring such to fragile occupants within. The solidity of this wagon is outstanding, and so are its brakes.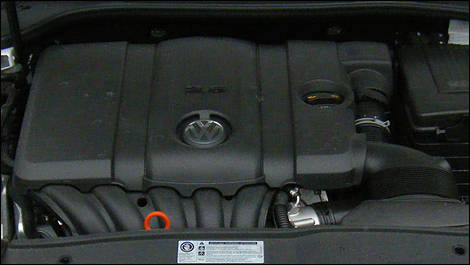 With a maximum output of 170 horsepower @ 5,700 rpm and 177 pound-feet of torque @ 4,250 rpm headed to the front wheels, the Golf Wagon is no gutless econobox—far from it in fact. (Photo: Rob Rothwell/Auto123.com)
If not accustomed to Germanic-feeling brakes, the Golf's binders may feel a little touchy at first—kind of like some people I know—but after becoming acquainted with their squeeze, they're easily modulated in all situations. Ah, the brakes not the people.
The Golf club
Yes, I think it's fair to say that Golf buyers join a club of folks owning highly practical vehicles that serve-up Euro driving dynamics while not breaking the bank to do so. Some of these people also own golf clubs, which they use their Golf Wagon to haul around.
Regardless of one's golf proficiency, the new Golf Wagon will undoubtedly supply perfect drives with nary a slice.