Certain cars evoke certain emotions and driving styles. It doesn't happen often (at least not for me), but when it does, it takes over my senses completely. I have no choice but to behave the way the car
makes
me. And I swear that's what I'd planned to tell the police officer when he would eventually pull me over.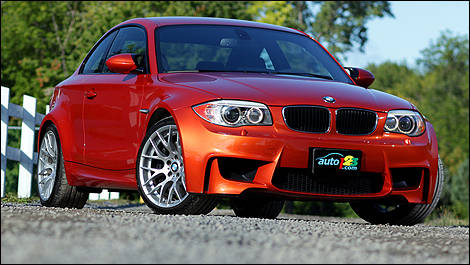 Sexy, sleek and oh-so compact, you could even say it's the ideal car for the modern woman to own. (Photo: Sébastien D'Amour/Auto123.com)
Thankfully, said scenario never had to play out and I was left blissfully untouched throughout my week behind the wheel of the
2011 BMW 1 Series M Coupé
. Maybe it had something to do with the fact that I was a woman - but I'll touch on that in a moment. There's something about this mini Bimmer that keeps drivers, passengers and fellow road dwellers alike grinning and staring. And there are a few reasons why that's the case.
First of all, the way this coupe looks is as close to perfection as I think any automobile can be. The stubby, tightly muscled front end with an exaggerated sporty lip is both aggressive and sophisticated. BMW's signature angel eyes stare out beneath a hooded design element that makes the BMW 1M look a bit like it's scowling at you for standing and staring at it instead of actually driving it. Naughty little thing.
Let your eyes drift to the side of the 1M and you'll be just as impressed. The sides are sculpted in a way that's almost feminine while still maintaining an air of strength and agility. The not-so-subtle side vents beside the front wheels immediately suggest speed, as do the flared wheel arches and the BMW M3-borrowed mirrors.
And then there's the rear. Oh the rear. I don't care if you're not an aficionado of vehicles or even if you don't like them; one look at the BMW 1M's backside and I guarantee you'll fall in love. As short and taught as the nose, the BMW 1M's rear is perfectly proportionate to the rest of the vehicle and designed in a harmoniously symmetrical way that alludes not only to BMW's engineering prowess but to their attention to detail as well.
Alright, enough about the exterior (but, oh, that Valencia Orange colour!), what's it like as an every-day, gotta-live-with-it vehicle? Well, the 1 Series M Coupé is made for one thing and one thing only: driving. It's a two-door so the rear-seat access is limited at best. If you're planning on squeezing two kids back there or a baby seat, you've been warned: It's not going to be easy. Sure, the kids will enjoy the ride, but loading and unloading will get old real fast, trust me.