Auto journalists must remain as neutral as possible. People often say that we criticize certain models just for the sake of criticizing, but that is simply not the case. Our expertise allows us to shed light on a number of elements and potential problems that may or may not seem obvious to the average customer who goes for a 15-minute test drive. Our job is to help potential buyers make an educated choice.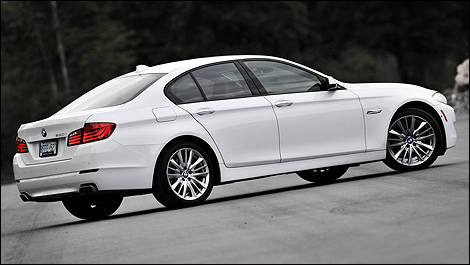 The new 2011 BMW 5-Series really, really impressed me. (Photo: Matthieu Lambert/Auto123.com)
In my career, I've always found a little something that annoyed me about each and every car I drove — until now. With the new 2011 BMW 550i, there is no "Yeah, but…"
As unfathomable as it may sound, this machine literally is flawless.
Superb sculpture
The
redesigned 5-Series
builds on the previous two generations, pushing the brand's design trademarks to a whole new level. This German midsize sedan keeps standing out with sportier lines than most of its rivals, particularly the
Mercedes-Benz E-Class
, even though the exterior now looks a tad more understated.
A first glance from afar will generate comments like "Nice car!" and that's about it. However, as soon as you get closer, the magnificent details will take your breath away. I insist that you go check the photo gallery!
A slightly wider, narrower interpretation of the famous double-kidney grille highlights BMW's new styling direction, which includes the return of the subtle shark nose. The body sides are extensively sculpted yet convey a definite sense of smoothness, while the dynamically-shaped rocker panels make the wheelbase look shorter. The kink at the back of the side glass is a bit less sharp, which increases visibility. Finally, the tail shows more visual restraint and brings the car in line with the flagship 7-Series.
Classy cockpit
I've already stated that BMW interiors are virtually identical; well, the new 5-Series is a carbon copy of its larger sibling. Believe me, there is absolutely nothing wrong with that! The recent gain in width allows generous interior room in a classy layout. The clean, business-like environment during the day turns into a cozy lounge at night, especially with the refreshingly-soft ambient lighting.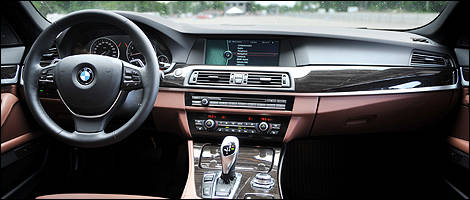 The large dashboard benefits from ideal material selection and exceptional fit and finish. (Photo: Matthieu Lambert/Auto123.com)