The latest-generation
Dodge Avenger
went on sale a few years back complete with an extra set of doors that, like the new
Charger
, effectively turned the once-coupe model into a new four-door.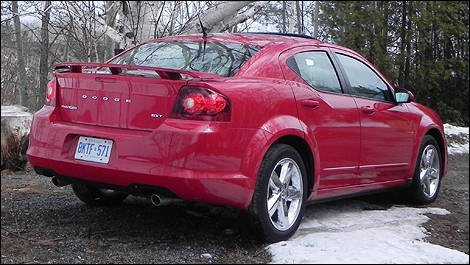 New looks, equipment, powertrain hardware, and interior trimmings are all on board. (Photo: Justin Pritchard/Auto123.com)
For 2011, Dodge is pushing forward with a Fiat-powered product update rampage that's restyled and newly equipped the Avenger into what the automaker promises is the best one yet. New looks, equipment, powertrain hardware, and interior trimmings are all on board.
A sedan for budget-minded superheroes
And with a name like "Avenger," you can't help but feel like a bit of a villain-fighting superhero when you drive this care – and you'll definitely look the part.
No, not because of the mask and uncomfortably tight spandex, but because of the chrome wheels, tidy new grille, dual exhaust, and LED brake lights. The body is decidedly blocky and not rounded off at every edge, which works towards giving the Dodge Avenger SXT a much more muscular look. For something modestly priced, this car packs heaps of visual testosterone.
Older folks find it looks childish and overdone. Younger folks say it looks "sick" or "wicked". If your age lies somewhere in between, you'll likely appreciate the sensibility of the four-door body balanced against youthful, tuner-style touches like a deep fascia and large rear spoiler.
On board—upscale and unique
Inside your secret lair, (aka the Avenger's cabin) you'll find an upscale and unique atmosphere. Our tester featured a sunroof, plenty of storage for your various crime-fighting tools, and full multimedia connectivity for quick access to your iPod-stored theme song.
Heated cloth seats keep you from freezing your Lycra-clad tushy off, and an advanced, high-tech and voice-controlled communications system is tied in with the infotainment and stereo.
Some decorative stitching and soft-touch surfaces help deliver a premium look and feel. Ditto for the tester's khaki and black colour scheme.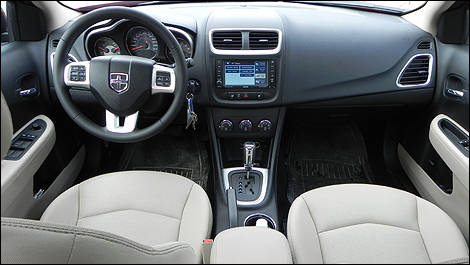 Inside your secret lair, (aka the Avenger's cabin) you'll find an upscale and unique atmosphere. (Photo: Justin Pritchard/Auto123.com)