MONTREAL, Quebec—
Kia's new mid-size sedan, which hit dealerships earlier this year, is selling well. So well in fact, that production in Korea can't keep up with demand. Soon, the Optima will be built alongside the
Sorento
in Kia's recently-established plant in Georgia.
And this fall, a hybrid version of the Optima will go on sale as well. Without any 'green' car in their respective line-ups, Hyundai and Kia have developed a new hybrid powertrain that teams up the companies' 2.4-litre 4-cylinder engine, an electric motor and a battery pack.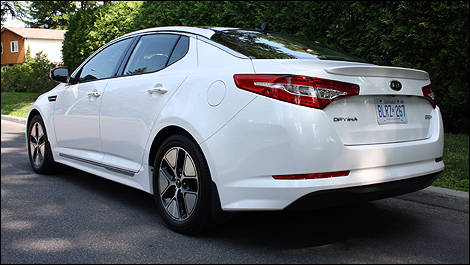 This fall, a hybrid version of the Optima will go on sale as well. (Photo: Michel Deslauriers/Auto123.com)
Instead of going the same route as Ford, Honda and Toyota with a continuously-variable transmission (or CVT), Kia chose to keep their conventional, smooth-shifting 6-speed automatic for duty with the gas-electric powerplant. Combined output is rated at 206 horsepower and 195 lb-ft of torque, which is slightly more muscle than in the hybrid versions of the
Fusion
and the
Camry
.
More efficient on the highway
Curiously, fuel economy ratings are reversed compared to the Fusion; the latter consumes less fuel around town than the Kia, while the Kia is more fuel-efficient on the highway. During our short drive, the trip computer read 7.6 L/100 km as we criss-crossed through the city and residential areas; after a reset, the highway portion of our test resulted in an average of 4.9 L/100 km. Not bad.
But what's impressive is how natural the Optima Hybrid feels; drive it normally, and it'll behave like a regular car. The harshness sometimes felt in a hybrid car's brake pedal during energy regeneration is barely noticeable, and the start/stop system doesn't cause the car to shudder while it fires the gas engine back to life.
Launching the Optima Hybrid from a standstill at a snail's pace, the EV mode will get up to about 20 or 30 km/h before the gas engine kicks in; you won't be able to slowly speed up to 70 km/h on battery power alone like you can in the Fusion. That's probably not the way most people would drive, anyway.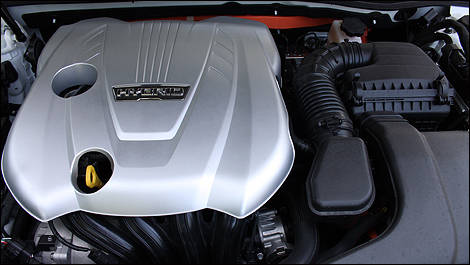 The 2.4-litre engine, an electric motor and a battery pack combine for 206 horsepower. (Photo: Michel Deslauriers/Auto123.com)