The 2011 Montreal International Auto Show (MIAS) ended on Sunday, so it's time to do our own little recap.
According to Bertrand Godin, writer at Auto123.com and official spokesman of the MIAS, one of the highlights of the 43rd edition was undoubtedly the enthusiasm of visitors: ''During the two previous shows, people were coming to me to talk about the poor state of some automakers. This year, though, consumers were intrigued and optimistic about the future of the auto industry. I think that's a sign of things to come!''
With a record-breaking 207,208 tickets sold, the show greeted 10 percent more fans than last year. Tuning enthusiasts spent plenty of time around the 40+ machines in the Performance Zone, while a total of 877 would-be car testers tried out the new Kizashi as part of the Suzuki Test Drives.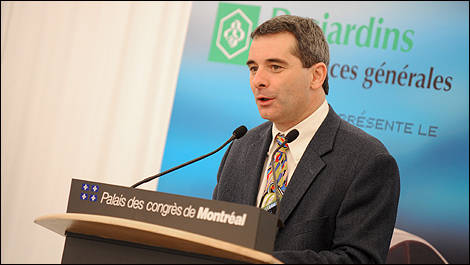 Bertrand Godin (Photo: Matthieu Lambert/Auto123.com)
The ''On Route to the Future'' exhibit presented in collaboration with Hydro-Quebec also generated a lot of interest, particularly the Mitsubishi i-MiEV, Nissan LEAF and Chevrolet Volt. ''People had tons of questions about electric cars, their technology and the charging process,'' says Godin. ''Fortunately, the organizers were one step ahead and they ensured that potential buyers exited Palais des Congrès with a greater knowledge of these vehicles.''
Visitors were also able to see the all-new 2012 Hyundai Accent for the first time in North America. The Chevrolet Orlando and Sonic, Ford C-Max, Land Rover Range Rover Evoque, BMW X1 and many others made their debut as well.
From a personal point of view, Bertrand Godin was highly impressed with the GMC Granite Concept and the production version of the Plethore, a 100-percent Canadian supercar. ''I was there when the car came to life and I can tell you that watching hard-working people's dream become a reality and create so much public admiration is really special,'' he tells us.
Overall, the 2011 MIAS served as a brilliant, positive reminder of what the auto industry is capable of. Given the renewed enthusiasm and curiosity of show goers, the upcoming years look very promising!