After months and months of speculation, the
iQ
has been cleared for sale in Canada. That's good news.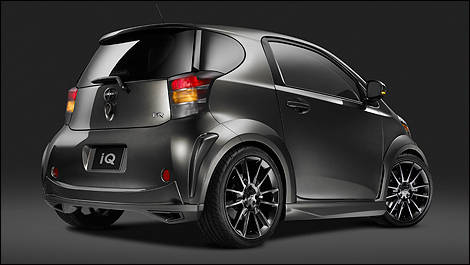 The Scion iQ is basically a cockpit with an outer body that's tightly wrapped around it. (Photo: Toyota)
Why is it good news? Because a lot of people don't need huge cars like the Yaris or land yachts like the Corolla. The average couple has only 1.4 kids, so why have room for five passengers when you only need four?
They don't need big-displacement engines, either, like the 1.5-litre and 1.8-litre units that are found in the aforementioned Toyotas. Imagine, you can get a big-block 2.4-litre engine in the
Corolla XRS
; talk about waste of natural resources.
Okay, we're exaggerating a little. But you get the idea (we hope).
The Scion iQ is basically a cockpit with an outer body that's tightly wrapped around it. Think of any Marvel super hero that has a skin-tight costume, and there you have it.
The iQ has a wheelbase of 2,000 mm and an overall length of 2,985 mm, so it's longer than a smart fortwo. But it's dwarfed by a 3-door Yaris Hatchback. Yet inside, there are 50/50-split folding rear seats, so it's more practical than the
smart
.
We're not sure two adults will fit comfortably in back, though, but we did search extensively through European Toyota iQ discussion forums, and it seems as though 7 year-old children or infants in child seats will fit in back with 6-foot-tall adults in front, but sitting two full-grown adults in tandem is a real challenge. Scion calls the iQ a "3+1", which probably means the person riding in the rear will take up most of the available space.
As for cargo space, you get 32 litres with the rear seatback is up, and 238 litres when it's folded down. Grocery shopping with the whole family on board is out of the question.
But when you drive to work in the morning, you're probably riding solo, so all that space is irrelevant anyway. We told you a Yaris was too big.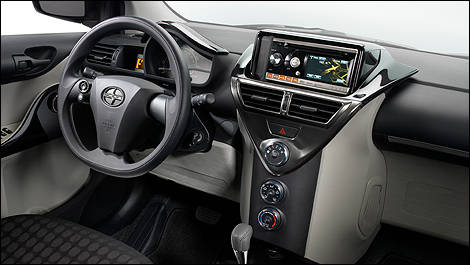 Inside, the iQ's dash borrows several bits and pieces from Toyota's parts bin, including the Yaris' stacked heating and ventilation rotary dials. (Photo: Toyota)