When the RAV4 first came out back in 1996, I was in love! It was a cute, girly version of a Jeep–4-wheel drive, room for 4 and you could take the top down. A four-door, fixed-roof version was also available and that was the iconic vehicle that arguably created the compact SUV segment.
This current generation RAV4 is quite different from that little vehicle. It is bigger, has more power and now has a bit more function to its design.
Consumers have a lot of choice with Toyota's compact SUV, with nine models to choose from: three RAV4 2WD; three RAV4 4WD and three RAV4 4WD V6. All of these models are available in the value-minded Base, performance-oriented Sport, and premium-experience Limited trim levels.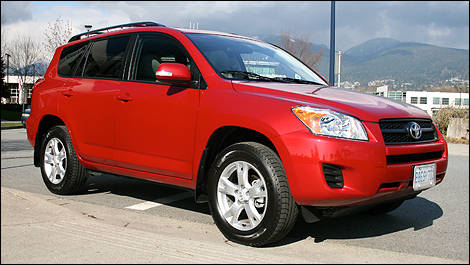 This current generation RAV4 is bigger, has more power and now has a bit more function to its design. (Photo: Lacey Elliott/Auto123.com)
For the week, my test RAV4 is the base 4WD painted Barcelona Red Metallic with the 2.5-litre four-cylinder engine that generates 179 hp and paired with a four-speed automatic transmission.
You can also get the more powerful 3.5l-itre V6 that delivers 269 hp paired with a five-speed automatic. For 2011, the V6 can no longer be offered as a 2WD.
On the outside, I think it is one of the best-looking in this class of compact SUVs and CUVs. Clean lines, and a cohesive design make it look good at any angle. The styling is still a tad on the cute side; but it is also slightly rugged yet sporty appearance, too!
The one complaint that I have about the
RAV4
is the rear-swinging door. I really don't get it. Why would they not use a normal rear liftgate? First, if you park in a tight spot, you can't get the door open enough to access the contents in the rear.
And second, imagine parallel parking, then getting out of the driver's side and going to the back to get out your stroller. You swing open the rear door open to the road?! That's right, the door swings so that the opening is into traffic. It didn't make sense when they first designed it and I can't understand why they have not changed it. My fingers are crossed that it will be the first item they address when they come out with the next generation.
Ok. Now that I got that off my chest, the rest of the design is wonderful!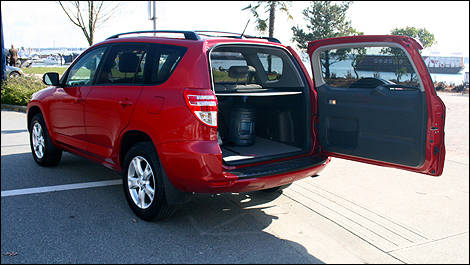 The one complaint that I have about the RAV4 is the rear-swinging door. If you park in a tight spot, you can't get the door open enough to access the contents in the rear. (Photo: Lacey Elliott/Auto123.com)