There's a Yaris for everyone, no matter if you prefer a super-compact yet super-practical hatchback or a more traditional, conservative four-door sedan (because you can't live without a trunk!).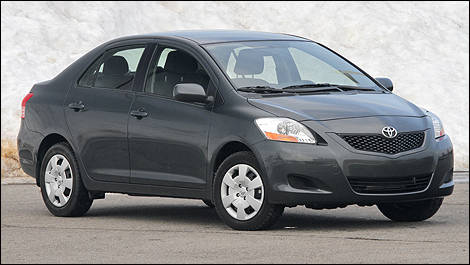 In Japan, the Yaris is called Belta, which means ''beauty''. But as the saying goes, beauty is in the eye of the beholder. (Photo: Luc Gagné/Auto123.com)
Whichever Yaris you choose, expect a highly-efficient, affordable small car that will serve as a nice backup to public transit for your daily commute.
Trunk size matters!
Toyota is obviously not the only sub-compact car manufacturer out there. Competitors include the
Ford Fiesta
,
Kia Rio
, Nissan Versa and
Hyundai Accent
, among others. You can add the upcoming Chevrolet Sonic, set to replace the aging Aveo.
If the trunk is so important to you, bear in mind that the Yaris offers one of the largest in its class at 388 litres. The opening is relatively wide and deep, and the step isn't too high either. What's more, with the 60/40 split-folding rear seats, you can increase cargo capacity at any time.
Much like the hatchback, the sedan is motivated by a 106-horsepower, 1.5-litre engine. It may not be the most potent around (the Fiesta's generates 120 horsepower), but this diminutive mill delivers generous torque (103 lb-ft).
The standard 5-speed manual transmission works beautifully thanks to smart gear ratios and a fairly-precise stick, but if you drive regularly in heavy traffic, you may want to consider the optional 4-speed automatic ($1,000).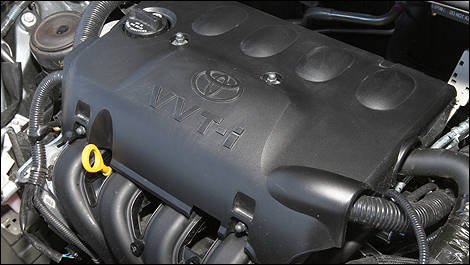 A 106-horsepower, 1.5-litre engine sends the little Yaris from 0 to 100 km/h in just over 10 seconds. (Photo: Luc Gagné/Auto123.com)