Earlier this week, General Motors invited a group of journalists to discover the new 2012 Chevrolet Camaro ZL1, which allowed us to learn some juicy nuggets about the car.
A 6.2-litre supercharged V8 generates 580 horsepower at 6,000 rpm and 556 lb-ft of torque at 4,200 rpm through a 6-speed manual gearbox. At 4,199 pounds, the Camaro ZL1 isn't particularly lightweight considering that the 556-horsepower Cadillac CTS-V tips the scales at 4,255 pounds.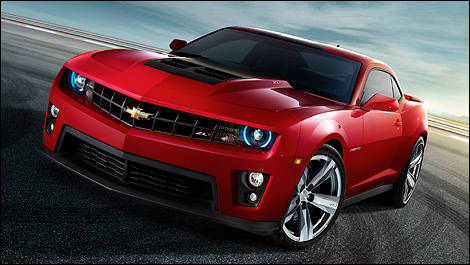 Photo: General Motors
Will it be able to outperform the Ford Shelby GT500? Not if we compare weight-to-power ratios – 7.24 lb/hp for the ZL1 versus 6.95 lb/hp for the GT500.
Standard features include active exhaust, head-up display, Brembo brakes and adaptive dampers. Meanwhile, the Performance Traction Management system, borrowed from the Corvette ZR1, offers five modes (wet, dry, sport one, sport two, and race) to not only adapt to virtually any road condition but also set the fastest lap times on the track.
Acceleration and braking performance remains a mystery, as does pricing. However, expect the 2012 Chevrolet Camaro ZL1 to mirror the Shelby GT500, which starts at $55,089.