You'll hardly be surprised to hear there are very few changes to report with regards to the
2012 Elantra
. After all, the all-new 5th generation Elantra was only introduced last year (as a 2011 model), and when a company's doing so well with its current offering, there seems little reason to alter a winning recipe; year-to-date, Elantra sales in Canada are about to surpass those of the
Honda Civic
.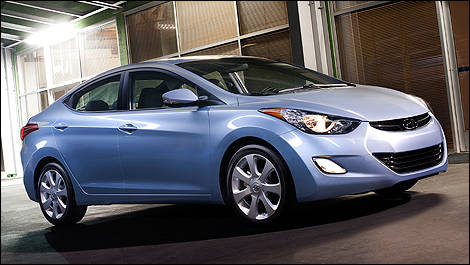 You'll hardly be surprised to hear there are very few changes to report with regards the 2012 Elantra. (Photo: Hyundai)
However, there are one or two improvements worth mentioning.
All 2012 Elantra models equipped with automatic transmissions receive Hyundai's ActiveECO function, a system which modifies engine and transmission response to improve real-world fuel economy by up to 7%. Also, XM satellite radio is now included in the GL model.
That's about it as far as updates go, so perhaps I can now share my thoughts on why this vehicle has become so successful here in Canada. After all, any vehicle which appears poised to knock the Honda Civic off its top perch is worth looking into, not to mention that my editor typically seeks more than a 100-word submission from yours truly!
The Elantra is perhaps the most important vehicle in the current Hyundai line-up and accounts for a large part of the company's success story in Canada. Elantra sales so far for 2011 totals 32,937 units and is going a long way in helping the company achieve its #1 position in Canadian passenger-car sales (year-to-date). Hyundai is currently sitting in the #5 position in total Canadian sales, which is mainly due to its lack of truck products.
Obviously, the award-winning Hyundai Genesis has gained a considerable amount of attention for the brand, but it's actually the lower-priced Elantra & Accent models which are propelling the company forward at such an impressive rate.
The Elantra, like most Hyundai products, offers great value for money (the L trim starts at just $15,849, while the top-of-the-line Limited with navigation lists at $24,699).
There was a time in days gone past when being frugal meant giving up on style & quality. Those days are thankfully gone, and in my experience it's difficult to find what you might call a cheap car from any manufacturer today. Buyers simply expect more than basic transportation nowadays. Hyundai understands this, and the company has built a reputation for offering its customers more than they might expect for the money being laid out.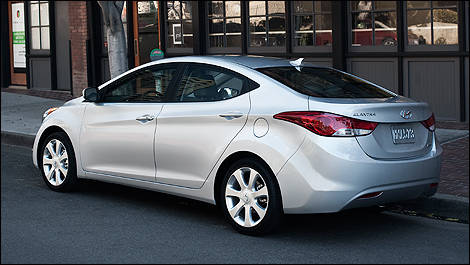 The L trim starts at just $15,849, while the top-of-the-line Limited with navigation lists at $24,699. (Photo: Hyundai)