I wasn't sure what to expect when I first slid behind the wheel of the
M35h
, Infiniti's newfangled, luxury-sport hybrid sedan.
But within a few clicks, I had two big, first impressions: this thing is awfully pretty; this thing is awfully fast.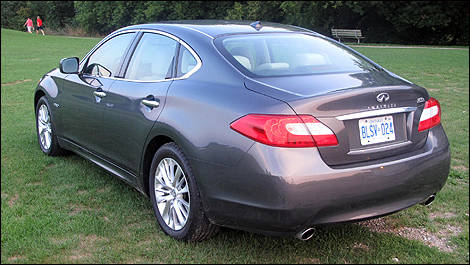 For model-year 2012, the Infiniti added this $67,300 hybrid model. (Photo: Mike Goetz/Auto123.com)
M for Marvelous styling
This third-generation M sedan, introduced for the 2011 model year, has a promising future for Infiniti. Sales are steady, while both critics and consumers have universally loved its styling, which somehow manages to combine muscles and flowing lines. The inside is equally appealing, with exquisite detailing and colour combinations — way more inviting than its earnest German competitors.
For model-year 2012, the Infiniti added this $67,300 hybrid model. The M line starts at the $52,400 for the rear-drive, V6-powered M37, but the hybrid is similarly equipped as an all-wheel drive
M37x
model with the Deluxe Touring and Technology Package. Basically, you're paying $7,300 for the hybrid option, and must live without all-wheel drive.
H for Holy smoke
The V8-equipped M cars start at $66,200 for the rear-drive M56. On paper, the hybrid can't match the prodigious output of the 5.6L, direct-injection V8, but I'm here to tell you that the hybrid can provide just as much visceral acceleration fun as the bigger-engined car.
If you flatten the throttle from a full stop, it takes a few moments for the powertrain to sort itself out, but once hooked up, it heads for the horizon like a missile. It doesn't even feel like it has a torque curve — just uninterrupted propulsion.
But I guess that's what happens when you add a 50-kW electric motor, capable of 199 lb-ft of torque, to a V6 powertrain already making 302 horses and 258 lb-ft. You can't access that electrical torque continuously — the lithium-ion battery is not as big as a house — but for short bursts, there is nothing like it.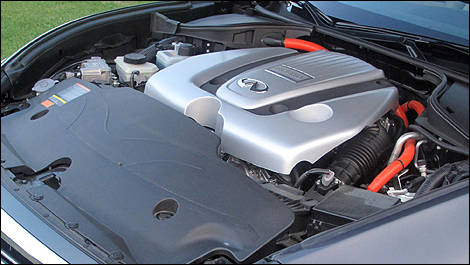 This 50-kW electric motor produces 199 lb-ft of torque to along with the 3.5L V6's 302 horsepower and 258 lb-ft. (Photo: Mike Goetz/Auto123.com)