A $110k luxury sedan for those who want to save money at the gas pumps is utterly illogical. After all, if you're wealthy enough to buy a Mercedes-Benz S-Class, surely you can afford putting fuel in it, right?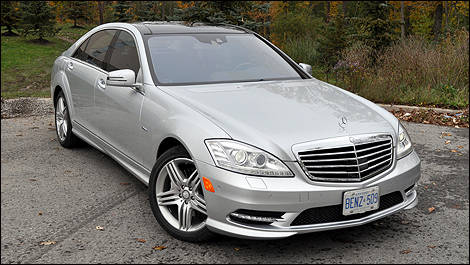 The diesel-powered S 350 BlueTEC is a segment exclusive in the US and Canada. (Photo: Mathieu St-Pierre/Auto123.com)
Well, it seems as though there is potential for this 2012 Mercedes-Benz S 350 BlueTEC 4MATIC. Available in long-wheelbase format only, it's the most efficient model of the S-Class lineup, more frugal even than the
S 400 Hybrid
; regarding the latter, we honestly don't know who would choose it over the diesel-powered sedan.
Long-range forecast
With city/highway ratings of 10.2 and 6.3 L/100km, respectively, as well as an 83-litre tank, the S 350 BlueTEC can travel up to 1,317 highway km on a single fill. That's a bladder-busting range, all right. Although our drive was brief, we assume an overall average of 9.0L/100km is very realistic (we achieved 8.5 in the E 350 BlueTEC we tested a few months ago), which means a range of 922 km.
What's also good is that the Mercedes-Benz S-Class obviously constitutes an excellent long-distance cruiser. Smooth, quiet and serene, the S 350 keeps all of its family virtues despite adding a diesel engine; not some noisy, smelly lump, but a modern and sophisticated turbodiesel.
Tankful of torque
The modest 240 hp rating might seem insufficient for a 4,700-lb (2,300-kg) sedan, but today's modern turbodiesels are high on torque. In this case, the 3.0L V6 belts out 455 lb-ft from 1,600 to 2,400 rpm. The S 350 BlueTEC 4MATIC also gets a 7-speed automatic transmission with paddle shifters and all-wheel drive.
True, the diesel-burning S-Class is no match for its AMG-badged acolytes on the drag strip, but it's still no slouch; Mercedes claims a 0-100 km/h time of 7.1 seconds and a governed top speed of 210 km/h.
Will your passengers notice that a diesel engine is lurking underhood? If they're paying close attention, they might, but otherwise, the BlueTEC mill is virtually as buttery smooth as other engines offered in the S-Class. Ok, said passengers might guess you're driving a diesel if you stop for refuelling and they hear you swearing about the filthy pump and the stinky puddles on the ground caused by people who just can't fill up without making a mess.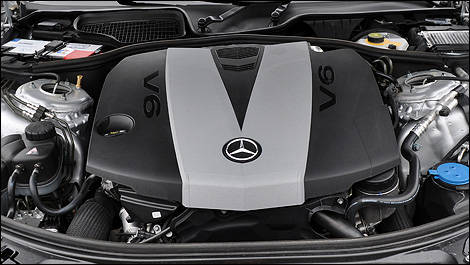 The 3.0L turbodiesel produces 240 horsepower and 455 lb-ft of torque. (Photo: Mathieu St-Pierre/Auto123.com)