SEATTLE, Washington—
When Seattle's Space Needle was constructed in 1962, the 605-foot landmark was the tallest structure west of the Mississippi River. Unfortunately, it's since been eclipsed by several ordinary city office buildings, which we cursed, searching the skyline in vain for the familiar landmark to lead us out of the tangled drive route from hell.
The course could've been laid out by M.C. Escher, since several of the routes didn't exist, or became physical impossibilities (such as the left turn into the harbour). Seattle's not the easiest city to negotiate, especially when you find yourself in the middle of a hugely popular downtown market, crawling with pedestrians and you've got no onboard nav system. With so much going on, the last thing we needed was any more distractions.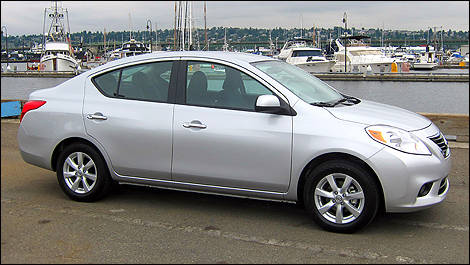 The 2012 model marks the first major overhaul for the second-generation Versa. (Photo: Lesley Wimbush/Auto123.com)
Fortunately, the new Versa excels at being unobtrusive. Visibility is excellent, ergonomics are dead simple and there's little engine noise to disturb your concentration. And that annoying rubber-band transmission of the past? Gone—replaced with a new smooth-operating CVT that features an extra planetary gearset.
First introduced in 2007, the Versa's performed well in this all-important segment, selling 43,578 units to date. Competition is fierce, as the subcompact market has shown a 40% growth over the last six years, and includes heavy hitters like the
Hyundai Accent
,
Ford Fiesta
and
Toyota Yaris
.
The 2012 model marks the first major overhaul for the second-generation Versa, but it's limited to the sedan only for now. There are no changes planned for the hatchback for the next 15 months. Apparently, Canadians are far fonder of the hatch than Americans, since 90% of Versas sold here have been hatchbacks, compared to 65% in the US. Upgrading the sedan may affect that ratio significantly.
Underpinning the Versa is the new Global V platform first introduced on the European Micra. The wheelbase remains the same, but overall, the car is 15 mm shorter and 150 lbs lighter. Although Nissan claims its newly aerodynamic shape "picks up styling cues from the Maxima and Z", externally it's rather plain, although its rump is unmistakably a Nissan.
The big story is the amount of interior volume, which offers 2,548 litres of cabin space and a 419-litre trunk. It boasts class-leading rear legroom—better than luxury sedans such as the Mercedes-Benz E-class, BMW 5 Series and Lexus LS. At 5'5", I was easily able to stretch out my legs comfortably to their full length.
"Versa sedan offers more space per dollar than any other car in Canada" said Nicholas Verneuil, Senior Marketing Manager.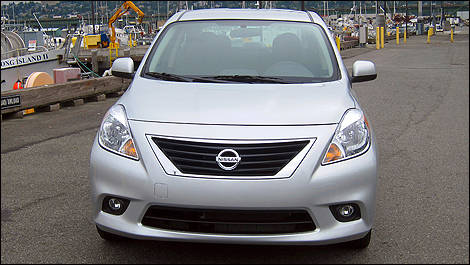 At $11,798 CDN, the Versa's base S model offers the lowest price in Canada. (Photo: Lesley Wimbush/Auto123.com)