Walking down the curved second-floor balcony, looking for my room, I feel as if I'd stepped out of a time machine. Surrounded by palm trees, orange trees and a retro-chic décor splashed in turquoise, burnt orange and lime green, I'm suddenly overwhelmed by goosebumps.
First and foremost, I escaped the frigid Montreal winter for a couple of days to sample the all-new
2012 Kia Rio Sedan
. Setting foot in the
Hotel Valley Ho
, however, is a moment that will forever become a memory in the back of my brain. Without even learning about the resort's rich history, you'll soak it all in just by looking around and letting your imagination wander.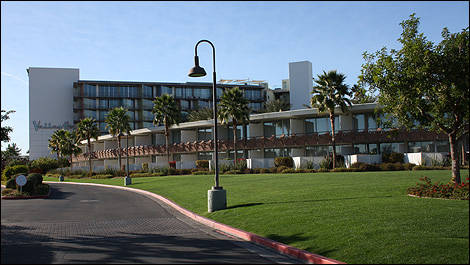 Photo: Michel Deslauriers/Auto123.com
Located in the heart of Scottsdale, a block away from the busy boulevard, the Hotel Valley Ho was built in 1956, designed by one of the most successful architects of Arizona and California.
The hotel is surrounded with beautiful landscaping, unpolluted by power lines and telephone posts. During its construction, all electrical wiring and plumbing was channelled though underground tunnels, which was unusual for the time; it doesn't sound like a big deal, but when you learn this and step outside, you realize the clean and pure visual effect it has on the hotel.
The original plans also called for the future construction of a seven-story tower, at a time when no Scottsdale buildings were designed with upward growth in mind. It was also the city's first resort with central air conditioning.
When it opened, the Hotel Valley Ho had 99 rooms, and the establishment became a popular spot for celebrities such as Zsa Zsa Gabor, Bing Crosby and Tony Curtis looking to chill out. The Valley Ho was also in vogue for banquets, fashion shows and weddings: Nathalie Wood and Robert Wagner held their wedding reception in the hotel ballroom back in 1957.
The Valley Ho first expanded in 1958, adding 79 rooms for a total of 178. During the '70s, however, Ramada purchased the famed resort and unfortunately transformed it into a family and corporate hotel, ruining its cachet. It stayed that way until 2002, when it went up for sale.
The hotel was almost purchased by a company wanting to tear it down, but luckily, that deal fell through. The new owners decided to restore the Hotel Valley Ho in order to preserve its mid-century atmosphere. The construction work began in 2004 by the same company that built the hotel back in 1956. The original construction cost $1.5 million back in the day; the restoration that was completed in 2005 cost $80 million. The seven-story tower was built in 2008, based on the original architect's plans.
The Valley Ho now has 194 rooms. Mine features a fine combination of modern and retro touches: the bathroom amenities are new, you get wi-fi and a flat-screen TV, while the décor throws you back 50 years. The pool area is a relaxing paradise, the Café Zuzu has a warm ambiance, and there's even a rooftop banquet and reception area with a breathtaking view of Scottsdale and Camelback Mountain.
The only downside to my stay at the Hotel Valley Ho is that it's for one single night. If it was up to me, I'd never leave.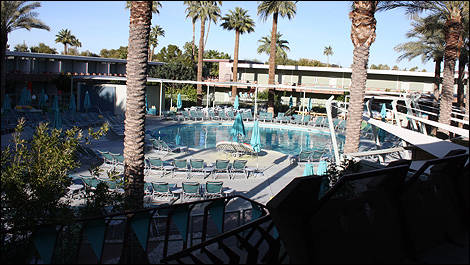 Photo: Michel Deslauriers/Auto123.com