The 2012 North American Car and Truck of the Year were announced this morning at the North American International Auto Show in Detroit. The Hyundai Elantra took the win ahead of the 2012 Ford Focus and the Volkswagen Passat.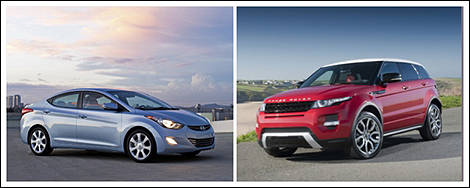 Photo: Hyundai & Land Rover
The honours for the North American Truck of the Year were awarded, by a considerable margin, to the 2012 Range Rover Evoque. The decision was fairly easy to make for the jurors due to the lack of new pickup trucks hitting the market over the year. The finalists considered for the Award were solely SUVs and crossovers.
In 2011 it was two American manufacturers who recieved the honours, Chevrolet with its 2011 Volt and Ford with the 2011 Explorer.
Congratulations to this year's winners!