A gentleman stopped and asked me about the 911 Carrera 4 I was driving. He enquired how long I'd been driving it, what it cost, and what my husband/boyfriend did for work to afford a car like that.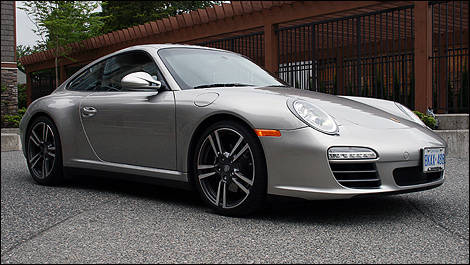 The Carrera 4 would satisfy any woman (or man, for that matter) who doesn't want to settle for just any Porsche. (Photo: Lacey Elliott/Auto123.com)
I was a bit turned off by this question. However, after some discussion, he explained that this was a car that a female just wouldn't buy.
What?! A successful, intelligent woman who has style and wants a grown-up sports car wouldn't settle for just any car – or any Porsche for that matter. She would want something that is a bit less common and would feel safe, comfortable and powerful behind the wheel: A Porsche Carrera.
A classic at heart, this beast is unmistakably a 911 with air intakes that were enlarged slightly for 2009 to give it increased cooling power and add to the aggressive exterior look. Standard bi-xenon headlights, indicators and daytime running lights are all pleasantly integrated into the front-end design and the style lines flow effortlessly from front to back.
Slightly remodelled just two years ago, this 2012 911's back end has LED taillights that are drawn right into the wing, and taper off to the edges and the stainless steel tailpipes are integrated flawlessly to keep with the aggressive styling.
The 911 Carrera models are all fitted with 18" wheels, and the S models with 19s. My silver beauty is equipped with optional 19" Turbo II wheels which can be had for an additional $2,790. I am, after all, a woman, and so I believe (because they look so good) that these gorgeous wheels are one option to spend a bit more money on as they really give the car a more assertive stance.
The Porsche Communication Management (PCM) system was redesigned and is now standard on the 911. It is the control unit for audio and navigation, and is fairly simple to use. A large 6.5" touchscreen in the middle of the console can also be operated with buttons.
Standard features on this Carrera 4 include a power sunroof, Bluetooth hands-free phone interface, and speed-activated rear spoiler. And the base price is $97,400.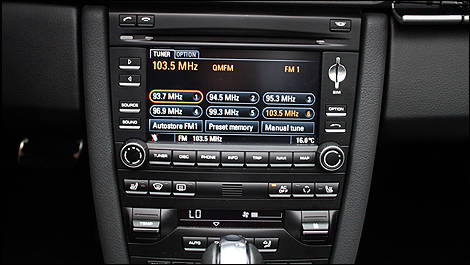 The Porsche Communication Management (PCM) system was redesigned and is now standard on the 911. (Photo: Lacey Elliott/Auto123.com)