Porsche removed 55 kg of weight from the Cayman S, then added 10 additional horsepower and retuned the chassis to improve on-track handling dynamics. They then replaced the "S" tag with an "R," creating an outstanding track car that can also serve as a daily driver for the weekend enthusiast.
Embracing the novice
While the
Cayman R
is blisteringly fast around the track thanks to 330 hp and an optional seven-speed Porsche PDK transmission and Sport Chrono Package — the combination of which will take the mid-engine two-seater from nada to 100 km/h in 4.7 seconds — it is the vehicle's balance and unflappable handling characteristics that make it perfect for the novice racer.
I had the opportunity recently to spend a day behind the wheel of a Cayman R at the Mission Park Raceway, in Mission BC, training under the tutelage of champion racecar drivers
Tony Morris Sr. and his son, Tony Morris Jr.
I learned a tremendous amount that day from the pros, and managed to vastly improve my rudimentary track skills; I also learned to appreciate the Cayman R in a manner that can only be experienced flat-out on a twisty, challenging racetrack.
Rather than focus my review on typical aspects of road tests, such as ride quality, fuel economy and so on, I thought I would meet with Tony Morris Jr. and seek his thoughts on why the Cayman R is the perfect track vehicle for the novice and expert alike.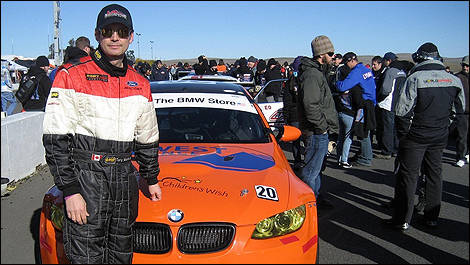 Tony Morris (Photo: Rob Rothwell/Auto123.com)
A little about Tony Jr.
As the son of racing legend Tony Morris Sr., Junior grew up with a steering wheel in his hands and his foot on the gas. He's a three-time Indy Support Champ and the SCCBC Invitational Champion of 2003. He's also the president of Morrisport Advanced Driving and an official Porsche driving instructor.
It's safe to say that Tony knows his way around a track and he knows Porsches. His instruction from the right seat while I did my best to simulate the skill of lost hero Ayrton Senna was direct, clear and compelling. It bolstered my confidence in myself and my machine as we seared through corners, perfectly clipping apexes.

Why the Cayman R, Tony?
What I really wanted to know from Tony is why he believed so strongly that the Cayman R was the perfect track vehicle for complete novices, such as yours truly. As Tony put it, "You can take someone green in their skills, and the Cayman R will make them feel like a champ."