TORONTO, Ontario -
Unless you've just slipped out of a coma, or you've been living on a remote island without Wi-Fi for the last year, chances are you know what Volkswagen did to the Jetta for 2011. Sacrifices were made so the car could be offered at a price point that's competitive with the likes of the
Toyota Corolla
, the
Honda Civic
and the
Mazda3
.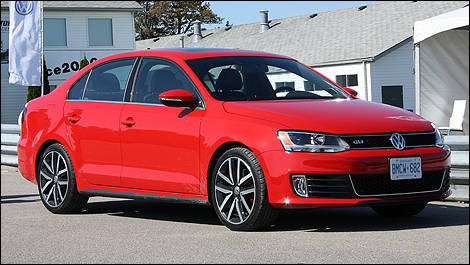 The GLI is improved in several ways over the more plebeian Jetta trims. (Photo: Michel Deslauriers/Auto123.com)
We'll spare you the details on how exactly the Jetta changed because you probably already know; however, a lot of those, ah, measures don't apply to the new GLI model as you'll discover by reading on.
Let's start with the engine. It's the same unit that's found in the GTI, as well as the previous-generation GLI. Displacing 2.0 litres and featuring a turbocharger, an intercooler and direct injection, you benefit from what is arguably the most powerful 200 hp engine we can think of. Its 207 lb.-ft of torque, peaking all the way from 1,700 to 5,000 rpm, allows the GLI to move along at a fast pace.
A 6-speed manual is standard fair, although for an extra $1,400, you can get yourself one of VW's excellent double-clutch automated gearboxes called DSG. While the sales split is 50/50 for the GTI, VW Canada is figuring 70% of GLI buyers will choose the automatic.
What you need to know - and this will definitely please VW fans who fell into a depression when they learned that the Jetta would revert back to a good ol' torsion beam - is that the 2012 GLI boasts an independent multilink rear suspension. Personally, a torsion beam is fine with me for run-of-the-mill models, but the GLI needed a better setup.
Together with a cross-differential system, or XDS in VW-speak, as well as suspension lowered by 15 mm, the sportiest version of the Jetta cooks on the track. While not as capable as the segment hot rods (namely the Mitsubishi Lancer Ralliart and Subaru Impreza WRX), the GLI proved its willingness to be tossed around at Mosport's Driver Development Centre course.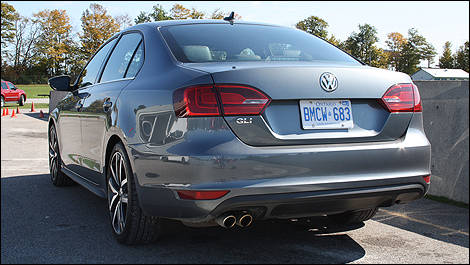 The GLI sheds the torsion beam rear suspension for a multilink setup. (Photo: Michel Deslauriers/Auto123.com)