After falling on hard times, Acura is set to rebound this year with two redesigned models and a positive attitude, no doubt pumped by the unveiling of the glorious
NSX Concept
. Within the next couple of years, the show car will become reality, as the NSX will once again reign as the luxury brand's halo supercar.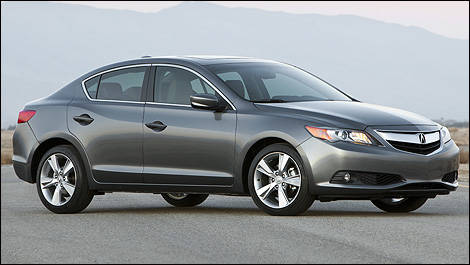 We believe the base version of Acura's new compact sedan should start at between $26,000 and $27,000, or a couple grand higher than the outgoing CSX. (Photo: Honda)
At the other end of the spectrum, on the other hand, was the compact
Acura CSX
. Based on the Honda Civic, it looked a lot like the Civic, which probably didn't help its justification as a more expensive, yet better-equipped, entry-level Acura. We auto journos didn't help either, constantly reminding consumers about the connection between the two cars (oops, we just did again).
The 2013 Acura ILX, presented at the
Canadian International Auto Show in Toronto
in February, seeks to distance itself from the
Honda Civic
, as long as the automotive press stops comparing the two (oops again). This time, the similarities are fewer and a lot less obvious.
Starting with the car's styling; the ILX appears to share no body panels or windows with the generic-looking Civic, and that's good. The ILX's shape is elegant, dynamic and carries much more Acura family resemblance and character.
Three powertrains will be offered in the 2013 Acura ILX. The base engine will be a 2.0L inline-4 that develops 150 hp and 140 lb-ft of torque, connected to a 5-speed automatic transmission with manual mode. Buyers will be able to step up to a 2.4L engine with 201 hp, 170 lb-ft of torque and a 6-speed manual.
The ILX will also get a hybrid powerplant consisting of a 1.5L engine, a 20-hp electric motor and a lithium-ion battery pack, good for 111 combined horsepower and 127 lb-ft of torque between 1,000 and 3,000 rpm. It also includes a continuously variable automatic transmission and, obviously, a stop-start system. This will be the first hybrid model sold under the Acura brand.