History/Description:
Yes, the Acura CSX might be little more than a dressed-up
Honda Civic
, but the luxurious little compact sedan enjoyed decent sales and a loyal following of owners. Like the
Acura EL
and Acura Integra before it, the CSX was a reliable, sporty and easy-to-drive compact sedan with an eye for affordable premium luxury.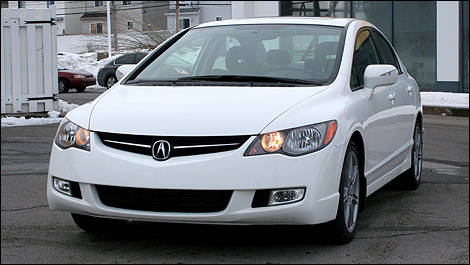 2008 Acura CSX Type-S (Photo: Amyot Bachand/Auto123.com)
Feature content included heated leather seating, navigation, premium audio, a sunroof, Bluetooth, xenon headlights and plenty more.
Under the hood, look for a 2.0L four cylinder engine with 155 hp on standard CSX models. That came paired with a 5-speed automatic with paddle shifters, or a 5-speed manual. The performance-minded
Acura CSX Type-S
, which got a 197-hp 4-cylinder and 6-speed manual combination, was also available.
What Owners Like:
Overall value, ride quality, spaciousness, fuel efficiency and handling were highly rated by most CSX owners taking to the Internet to share their stories. Owners of the Type-S model love the performance, too. The Bluetooth phone interface was also appreciated.
What Owners Dislike:
A numb and 'artificial' electronic throttle feel and limited driver kneeroom are the CSX's most typical complaints.
Common Issues With A Used Acura CSX:
Largely, the CSX appears to follow in the Honda Civic's footsteps for reliable, long-term performance.
In fact, even the head gasket problems noted with the Honda Civic of this generation shouldn't affect the CSX, as it uses a different engine. Still, a few checks should be considered mandatory.
Listen for any unwelcomed sounds from the suspension while travelling over bumps, which could indicate a worn-out suspension component in need of attention.
If considering a CSX Type-S, note any clunking or grinding when shifting into third gear. This is a fairly well documented problem in which a faulty synchronizer or shift sleeve causes some rough shifting. A service bulletin was issued to address the problem.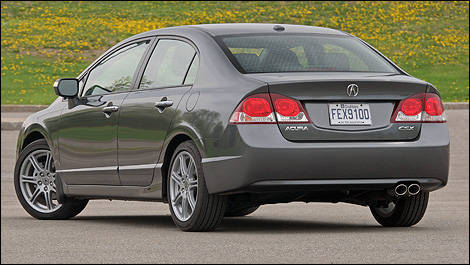 2009 Acura CSX TECH (Photo: Luc Gagné/Auto123.com)