Pros and Cons
Pros
This is one of the "most posh" luxury exotic cars on the road today. This 2013 Aston Martin DB9 Grand Tourer may not be the fastest around a track, but it will always be considered one of the most comfortable and beautiful artifacts on the road. In fact, if you own a few other cars, you'll likely never regret this one.
Cons
The Brits, like the Italians, are known for creating beautiful "things" but not reliable "things" that don't always do what they're supposed to, like start. For that, consider a German like a Porsche.

Price of the 2013 Aston Martin DB9 Coupe/Volante
From the high $100,000 to well over $200,000: The 2013 Aston Martin DB9 is a truly fully customizable car. There are over 30 possible exterior colours, 6 wheel styles, 4 caliper colours, nearly 30 different shades of leather, stitching, pin stripping and so on and so forth.

Fuel Economy
The 78-litre fuel tank will take you places... EnerGuide Canada rates the 2013 Aston Martin DB9 at 16.2/10.7 L/100 km city/highway. In the real world, expect to consume quite a bit more.
Improvements and changes
Considered one of the prettiest faces on the road today, the 2013 Aston Martin DB9 is fresh from a once-over that replaced more that 70% of its body panels
Exterior styling
Penned by Ian Callum, the moment it arrived in 2004 as a replacement for the DB7, compliments were thrown in his and her directions.
This Grand Tourer seduces further in its Volante drop top guise.
The car's perfect proportions mimic the near-perfect weight distribution and works with its aerodynamics to make the 2013 DB9 as agile and safe as it is fast. What certainly does not hinder this car's aura is the fact that it has been 007's preferred mode of transportation.
Inside the 2013 Aston Martin DB9 Coupe/Volante
The sumptuous 2+2 seating configuration is slathered in the finest Bridge of Weir hides, real glass and carbon fiber. When the cloth folds down and away, the rich splendor is the 2013 Aston Martin DB9 is fully revealed.
The only "option" is selecting the 2+0 seating configuration. For most, the rear seats of the 2+2 setup will never actually be used, but it may be best to keep them as a "nice-to-have."

2013 Aston Martin DB9 Coupe/Volante Powertrain
All DB9 models are powered by a silken, powerful 6.0L V12. This all-new AM11 engine provides this Aston Martin with 510 hp and 457 lb-ft of torque. The only available transmission is a rear mid-mounted "Touchtronic 2" 6-speed automatic transaxle with a limited slip differential.
This all-alloy quad overhead cam 48-valve front mid-mounted engine uses CNC-machined combustion chambers and hollow camshafts, techie bits lifted directly from their GT race car program. Its power is sufficient to catapult the car to 100 km/h in 4.6 seconds.
Safety
All manners of airbags and electronic nannies are standard on the 2013 Aston Martin DB9.
Comparing the 2013 Aston Martin DB9 Coupe/Volante
Porsche 911
, Bentley Continental GT,
Audi R8
, Jaguar XK,
BMW M6
, Ferrari 458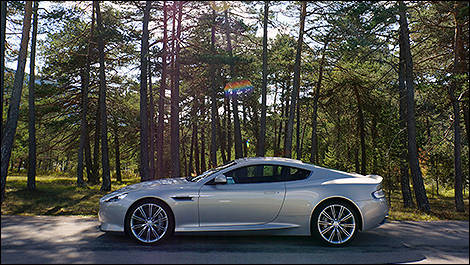 Photo: Aston Martin