Pros and Cons
Pros
The 2013 Aston Martin V12 Vantage is, according to AM, a thoroughbred and the embodiment of all that is great about the legendary brand that is Aston Martin. Introduced in 2012, the V12 Vantage can also be had in Roadster form.
The drop-top is available in very limited quantities, which promises an incredible level of exclusivity. Harder to spot than a four-leaf clover, the V12 Vantage Roadster is as fast as it is beautiful.
Cons
The Brits, like the Italians, are known for creating beautiful "things" but not reliable "things" that don't always do what they're supposed to -- like, start. For that, consider a German like a Porsche.
Sadly, production of the V12 Vantage has recently ended.
Price of the 2013 Aston Martin V12 Vantage
Over $175,000. The 2013 Aston Martin V12 Vantage is not your regular sports car.
Exterior styling
Even if the 2013 Aston Martin Vantage V12 is the smallest car in AM's lineup, no one will mistake this car for being anything else. Sleek and bulldog-like, the V12 Vantage strikes a balance between madness and regality.
The V12 Vantage features bonnet vents to increase airflow and give it a meaner look. The Vantage is also treated to a carbon-fibre front splitter and rear diffuser.
Whether standing still or flying by, the Aston Martin V12 Vantage looks like an ultimate sports car.
Inside the 2013 Aston Martin V12 Vantage
The cabin is slathered in the finest full-grain leather interior or full-grain leather and Alcantara interior, real glass and carbon fibre. It is beautifully crafted and a remarkable sight.
Lightweight carbon-fibre and Kevlar seats are an option for all Vantage trims -- a worthy ption this is.
Cargo capacity
The Aston Martin V12 Vantage's boot capacity is 300 litres.
2013 Aston Martin V12 Vantage powertrain
The Aston Martin V12 Vantage is powered by a powerful 5.9L V12. This engine provides this Aston Martin with 510 hp and 420 lb-ft of torque. The only available transmission is a rear, mid-mounted "Touchtronic 2" 6-speed automatic transaxle with a limited slip differential.
Top speed is 305 km/h. Its power is sufficient to catapult the car to 100 km/h in as little as 4.2 seconds.
Safety
All manners of airbags and electronic nannies are standard on the 2013 Aston Martin V12 Vantage.
Comparing the 2013 Aston Martin V12 Vantage
Porsche Cayman
,
Audi S5
,
Jaguar F-Type S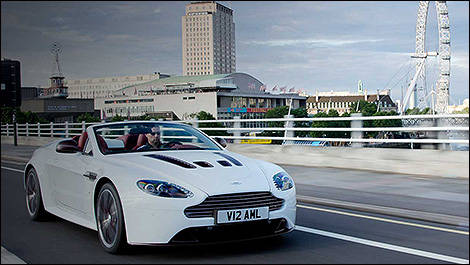 Photo: Aston Martin