Pros and Cons
Pros
The 2013 Aston Martin V8 Vantage is the gateway into the storied and highly prized brand that is AM. The V8 Vantage Coupe lives within compact proportions that blend speed, performance, and luxury.
The 2013 Aston Martin V8 Vantage offers five different versions, each more irresistible than the next. The Roadster iterations add a further level of poshness to what is a highly desirable car.

Cons
The Brits, like the Italians, are known for creating beautiful "things" but not reliable "things" that don't always do what they're supposed to, like start. For that, consider a German like a Porsche.
Price
Pricing starts at just over $127,000. The V8 Vantage S requires an extra $15,000. The 2013 Aston Martin V8 Vantage is a statement, not a typical sports car.
Fuel Economy
EnerGuide Canada rates a V8 Vantage equipped with a 6-speed manual gearbox is rated at 16.3/10.4 city/highway L per 100 km. With the rear mid-mounted "Sportshift 2" 7-speed automated manual transaxle, the numbers drop to 15.7 and 9.6, respectively.
Exterior styling
There is no denying the attractiveness of the 2013 Aston Martin V8 Vantage. Its smaller, more compact, dimensions give it a taut, determined look that few other luxury performance cars can pull off.
Despite being the "lesser" design in Aston Martin's current lineup of cars, it is still a knockout as its styling is timeless and its limited numbers always ensure that it will forever be a special car.
Inside
The cabin is slathered in full grain leather with piano-black dashboard trim and graphite centre console finish and surround. The level of artisanship defines what many believe to be and refer to as luxury.
The 2013 Aston Martin V8 Vantage's cockpit is conceived with the driver in mind. The passenger is clearly not neglected as he or she is treated to plenty of technology and comfort aspects.
Lightweight carbon-fibre and Kevlar seats are an option for all Vantage trims; a worthy option this is.
Cargo capacity
The Aston Martin V8 Vantage's boot capacity is 300 litres.
Powertrain
The Aston Martin V8 Vantage is powered by a 4.7L V8. This engine provides this Aston Martin with 420 hp and 346 lb-ft of torque. The rear wheels with a limited slip differential drive the AM V8.
Top speed is rated 290 km/h. The 100 km/h mark is reached in a brief 4.9 seconds.
Safety
All manners of airbags and electronic nannies are standard on the 2013 Aston Martin V8 Vantage.
Comparables
Porsche Cayman
,
Audi S5
,
Jaguar F-Type S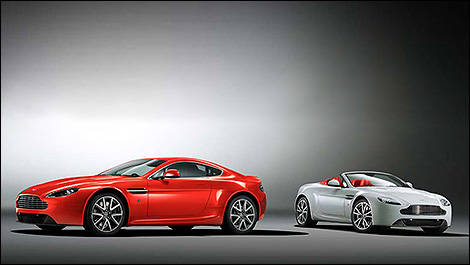 Photo: Aston Martin