DETROIT, Michigan —
The re-birth of Cadillac has been a great success, but it has always had one gaping hole in its line-up. Where was the small and sporty entry-level Cadillac, which lined up against North America's best-selling premium vehicle, the BMW 3 Series?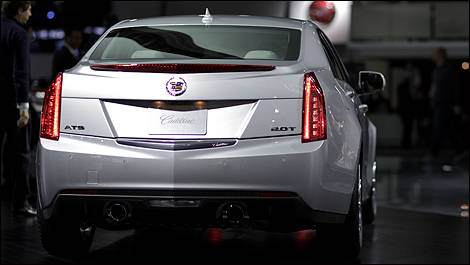 The 2013 Cadillac ATS goes on sale during the second half of 2012. (Photo: Sébastien D'Amour/Auto123.com)
Well, it's now sitting pretty at Cadillac's display area at the
2012 North American International Auto Show in Detroit
, and they're calling it the
2013 Cadillac ATS
.
Many an armchair quarterback wondered why GM didn't make a 3 Series-fighter sooner. The explanation from GM president Mark Reuss was that such a vehicle called for its own unique, lightweight rear-drive platform, and some production facilities to make it all happen — no small undertaking.
The mantra for this new Cadillac was no excess mass, and no excess visual mass. It had to be light and agile, and look like it was light and agile. Well, the resultant vehicle is one the lightest in its class (3,400 lb/1,542 kg), via extensive use of precious metals: magnesium for engine mount brackets, Ultra High Strength Steel (UHSS) for cross-vehicle beams and around the safety cage, and aluminum for the hood and suspension components.
The cradle for the new, five-link rear suspension, however, is made of heavier steel, to reduce noise and provide a counterweight to the powertrain, to help ATS achieve its near 50/50 weight distribution.
Base engine is a 200-hp 2.5L four. Optional engines include the 318-hp 3.6L V6, and an over-achieving 2.0L turbo four good for 270 hp and 260 lb-ft of torque (the only engine that can be mated to a manual transmission).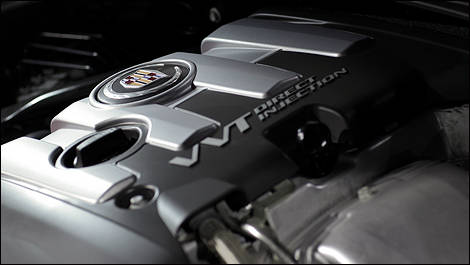 The 2.0L turbo engine four good for 270 hp and 260 lb-ft of torque is available in otpion. (Photo: Sébastien D'Amour/Auto123.com)