When Infiniti pulled the covers from its latest offering at this year's
L.A. Auto Show
, the new
2013 Infiniti JX
, the crowds flocked around the vehicle. Nothing unusual in that, I guess. After all, with the world's media in attendance, it's the journalists' job to snap a few photographs and then fire them off to their publications as quickly as possible.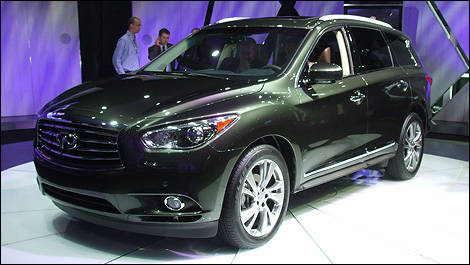 The new 2013 Infiniti JX. Designed to deliver…and to shock! (Photo: Kevin Corrigan/Auto123.com)
It's simply how the automotive news industry works, with every journo hoping to be the first to get the word out there. Of course, with Facebook & Twitter, the chances of this happening is next to zero because if the iPhone carrying youngster doesn't beat you to the post, then the manufacturer's PR team certainly will, as all they need do is press the send button!
Typically, I wait for the herd to move on, which they tend to do after a few minutes. Then I step in and shoot what I need without the masses jumping in front of my camera lens.
Unfortunately, this didn't bode well for me on this occasion. You see, I couldn't get a clear shot of the 2013 Infiniti JX even after an hour had passed. In fact, I was starting to wonder if my fellow journalists had forgotten that there were other launches taking place. I returned several times throughout the day, and the crowd was still there. Then I stopped and studied the situation, and realized it was not my fellow journalists who were filling up my camera frame, but all the executives from other car companies.
This started me thinking; what is it about this vehicle which has them so captivated? Yes, it's a strikingly good looking vehicle, with its dramatic front grille and that stylish crescent-cut D-pillar to the rear. It's also loaded with just about every gadget and gizmo imaginable and then some, including adaptive cruise control, a rear-seat DVD system, navigation, three-zone climate control, heated front and 2nd-row seats, a power liftgate as well as Infiniti's around-view monitor
In fact, the new Backup Collision Intervention feature (which detects objects crossing behind the vehicle while in reverse) is worth more than a second look. As is the rather clever third-row seating arrangement whereby you can leave your child seat latched to the second row while still getting in and out of the third row.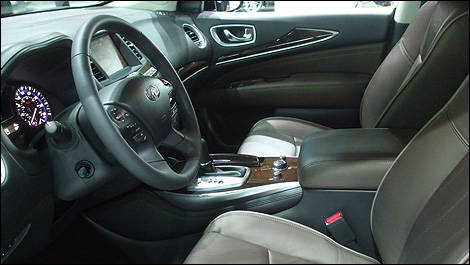 The Infiniti JX is loaded with just about every gadget and gizmo imaginable. (Photo: Kevin Corrigan/Auto123.com)