Pros and Cons
Pros
The 2013 Lamborghini Gallardo is one of the most recognizable supercars on the road today. It is instantly associated with performance, going fast and handling. The fact that the Gallardo is available in numerous special versions adds a layer of desirability.
Cons
The Lamborghini Gallardo has been around for a long while now and many think that the next generation is long overdue. As well, reliability issues are a given with these high-priced exotic Italian cars.
Price of the 2013 Lamborghini Gallardo
Base price for the 2013 Lamborghini Gallardo LP-550-2 starts at $200,000.
Exterior styling
The Lamborghini Gallardo's mid-rear engine configuration allows for the ideal wedge shape emulated by countless sports cars over the decades. Sharp angles define the Gallardo's overall design, but its fluid and flowing side profile make it look fast without moving.
The Spyder opens up to the elements thanks to a power-folding soft-top. Aesthetically, this two-seater roadster looks just as good, if not better, with the top up.
The Gallardo LP-560-4 features larger triangular front air intakes, 19" Apollo polished wheels and a revised rear with wide opening for a low-slung car look.
The Gallardo LP-570-4 Superleggera Edizione Tecnica is essentially a street-legal race car sporting a special paint scheme and unique touches.

Inside the 2013 Lamborghini Gallardo
The cabin is slathered in fine leather or a combination of it and alcantara. The interior can be customized through a number of different colour combinations.
As an exotic, the Gallardo features every desirable option and piece of technology. The car's ergonomics are fairly simple and are accented by a series of toggle switches mounted high on the centre stack.
Cargo capacity
The Lamborghini Gallardo's front boot is limited size-wise. Best pack light if planning to go away for a weekend.

Powertrain

The Lamborghini Gallardo is powered by a 5.2L V10. This engine provides three different outputs for its various iterations.
The base 550-2 gets 550hp and 397 lb-ft of torque and is rear-wheel drive. Transmission choices reside between a 6-speed manual and a robotized sequential manual 6-speed transmission called "e-gear." Top speed is rated at 320 km/h and the 0-100 km/h sprint is covered in 3.9 seconds.
The 560-4 manages 560hp and the same torque with permanent 4-wheel-drive with viscous traction system mated to a robotized sequential manual 6-speed transmission called e-gear. Top speed is rated at 325 km/h and the 0-100 km/h sprint is completed in 3.7 seconds.
The top line 570-4 is unchanged spec-wise from the 560 save for 10 extra hp and a 3.4 second 0-100 km/h sprint. Its lower weight explains the vast improvement in the sprint time. It tips the scale at 70 kg (154 lbs) less than the 560-4.
Safety
All manner of airbags and electronic nannies are standard on the 2013 Lamborghini Gallardo.

Comaring the 2013 Lamborghini Gallardo
Porsche 911
,
Audi R8
,
Jaguar XK
,
Aston Martin DB9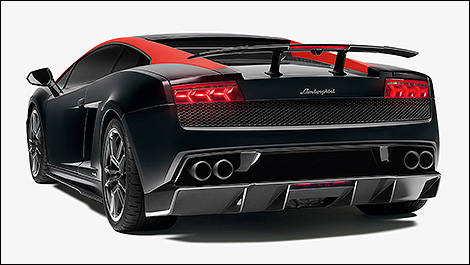 Lamborghini Gallardo LP 570-4 (Photo: Lamborghini)
2013 Lamborghini gallardo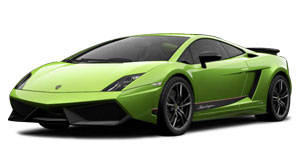 2013 Lamborghini gallardo