The 2013 Mazda Adventure Rally, organized by Mazda Canada's Vehicle Dynamic Group, took place in Boulder, Colorado last week. The event brought together teams of automotive journalists from across Canada to compete and raise money for their favourite charitable foundation. Mazda handed out generous amounts of $10,000, $2,000 and $1,000 to the top three duos that accumulated the most points throughout the two-day event.
We embarked on an exciting adventure on the hunt for clues and points.
Actual details and the event itinerary were closely guarded and kept secret. The only bits of leaked information that turned out to be true were the identity of the vehicles --
CX-5
and
CX-9
-- and the fact that we would be spending a large amount of time on the road.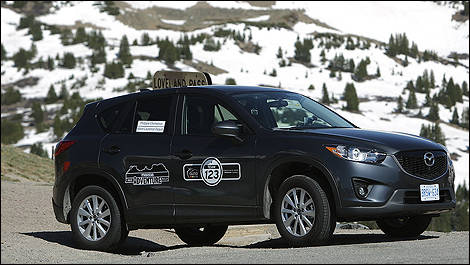 Photo: Philippe Champoux
There was no time for dillydallying, that's for sure! We drove nearly 1,500 kilometres on the most breathtaking roads and backroads in the beautiful states of Colorado and Utah.
From Boulder, we made our way to Telluride by way of Buena Vista and Ridgeway. Telluride is perched way up high (2,600 metres or 8,750 feet), and the lack of oxygen took a toll on both vehicles and passengers. From Telluride, we descended into Moab before crossing over into Utah, and headed towards Green River, Fairview, and Sundance.
Fortunately our test vehicles were equipped with Mazda's all-wheel drive in order to meet the various off-road challenges. The CX-5 GS impressed us with its agility and the level of standard equipment, while the CX-9 GS was both spacious and comfortable.
Driving-pleasure has always been at the forefront of Mazda's culture, and this extraordinary rally highlighted the benefits of this philosophy.

Event Schedule
The rally was divided into seven stages, three the first day and four the second. A variety of creative challenges were thrown our way. For example, we needed to figure out the itinerary that would take us to the most mountain summits in a very precise timeframe. Or how about finding the route which would take us to the highest and lowest altitudes in less than 300 kilometres? The wider the margin in elevation, the more points you earned.
The Mazda team provided iPads in order to take pictures to prove that we actually visited the different areas.
We spent two days in the heart of the American Rockies, travelling from snow-capped mountain peaks the first day to gigantic canyons the next. Somehow, we managed to avoid the various animal herds that were often smack in the middle of the road. Our two sets of eyes weren't enough to take in all the splendour.
There was a definite risk factor to this event that doubled the degree of difficulty. The organizers equipped each team with satellite phones, search and rescue transponders, GPS devices, as well as an emergency kit. Fortunately, everyone came back safe and sound.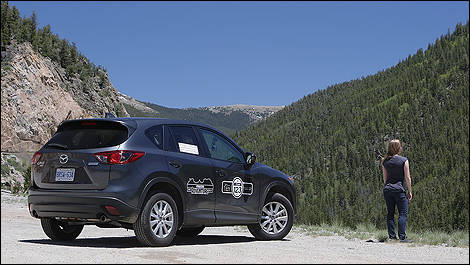 Photo: Philippe Champoux