The
2013 Mercedes-Benz SL 65 AMG
is now arriving at dealerships across the country with a 630-horsepower, 6.0L twin-turbo V12 engine and a price of $229,900, according to the brand's Canadian website.
New this year, customers can take delivery of their 2013 Mercedes-Benz SL 65 AMG directly from the AMG Customer Center in Affalterbach, Germany. This also includes a visit to the AMG Performance Studio and a meeting with the engineers who built the V12 engine used in their SL 65 AMG.
A special "45th ANNIVERSARY" edition, limited to just 45 vehicles and sold at €272,034, will be available. A Mercedes-Benz Canada spokesman confirmed to Auto123.com that a certain number of units will find their way here, although Canadian pricing has yet to be determined.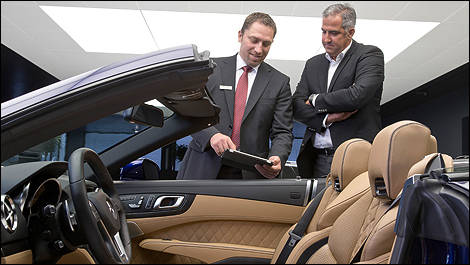 Photo: Mercedes-Benz