While the entire world focuses on the 2011 New York International Auto Show, Mercedes-Benz is introducing the new 2012 E 63 AMG offering a unique blend of luxury, performance and fuel economy.
The naturally-aspirated, 6.3-litre V8 engine of the outgoing model has been replaced by a new 5.5-litre twin-turbo V8. Already familiar from the CLS 63 AMG, it delivers an output of 525 horsepower along with 516 pounds-foot of torque. Should customers want more, the optional AMG Performance package boosts these numbers to 557 hp and 590 lb-ft.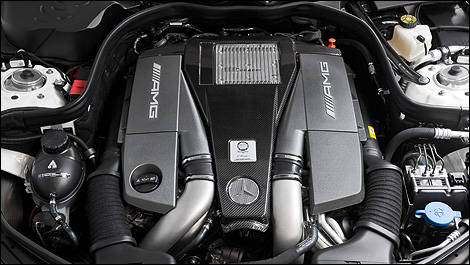 Photo: Mercedes-Benz
Amazingly, fuel consumption is down 22 percent from the previous E 63 AMG coupe to 9.8 L/100 km on the highway. The wagon proves a tad thirstier at 10 L/100 km. Still, that's incredible for a car with 0-100 km/h accelerations in 4.3 seconds.
A major contribution is made by the 7-speed AMG SPEEDSHIFT MCT sports transmission with three shift modes, one of which improves efficiency, and standard start/stop. These attributes do not compromise the sportiness of the vehicle, Mercedes claims.
Furthermore, the AMG RIDE CONTROL sports suspension allows the driver to switch between three handling modes – "Comfort", "Sport" and "Sport plus" – at the touch of a button. It all works to ensure optimum driving dynamics and efficiency in typical German fashion.
The 2012 E 63 AMG also features 18-inch AMG light-alloy wheels, AMG composite brakes, an AMG sports exhaust system and a 3-stage ESP system with Sport mode.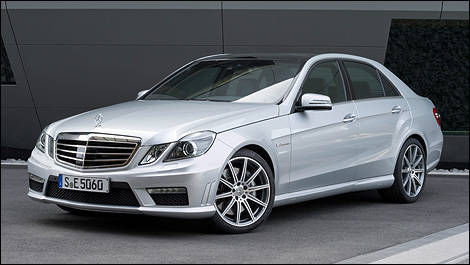 Photo: Mercedes-Benz