2013 Rolls-Royce Ghost: Pros and Cons
Pros
The
2013 Rolls-Royce Ghost
is the entry-level Rolls and therefore the most affordable. Although that is meant more as a joke than anything else, the fact remains that the Ghost is a Roller and deserves respect.
Owning a Rolls-Royce is practically an achievement and is nothing less than a symbol of worldly riches and elegance. No one will ever doubt your purchase.

Cons
Reliability and ownership costs could be an issue for common folk so those purchasing a Ghost have nothing to worry about.
Price of the 2013 Rolls-Royce Ghost
Base price for the 2013 Rolls-Royce Ghost is a lot. Try north of $260,000.
Exterior styling
The 2013 Rolls-Royce Ghost is available in regular and extended wheelbase configurations. The front end of the car is unmistakingly Rolls-Royce with its Spirit of Ecstasy adorning the large bonnet and waterfall grille. Another signature element is the rear suicide doors that make quite a scene.
Rolls-Royce has been using 2:1 proportions (wheel to body height) for almost ever and it continues to be true with the Ghost. All that steel can be painted any of 16 colours or Rolls can create nearly any colour you'd like from a swatch.
Two-tone finishes and hand-painted coachlines are also ways to further personalize your Roller. As well, there are three different wheel styles to chose from, all featuring unique self-righting wheel centres.
The distinctive headlights, beltline and flowing rear ooze elegance befitting royalty.
Inside the 2013 Rolls-Royce Ghost
The Ghost's cabin is slathered in the finest leathers, wood veneers, and plush wool carpets. The level of craftsmanship and attention to detail are second to none.
The atmosphere that reigns inside the car is amplified by extreme luxury and soft surfaces. The interior is highly customizable through a number of different colour combinations.
As a hyper luxury exotic car, the Rolls-Royce Ghost features every desirable option and piece of technology. The car's ergonomics are graceful and functional. The dashboard is highlighted by mirror-like surfaces and the deep lustre of woods. The seats are supremely comfortable and rear seat legroom is limo-like, more so in the extended wheelbase version.

Cargo capacity of the 2013 Rolls-Royce Ghost
The 2013 Rolls-Royce Ghost's boot has a useable volume of 396 litres.
2013 Rolls-Royce Ghost Powertrain
The 2013 Rolls-Royce Ghost is powered by a twin-turbo 6.6L V12. It produces 563 hp and 575 lb-ft of torque. It reaches 100 km/h in 5.0 seconds. Top speed is limited to 155 mph or 250 km/h. The engine is mated to an 8-speed automatic transmission.
80% of the powerplant's torque is available from tick-over.
Safety
All manners of airbags and electronic nannies are standard on the 2013 Rolls-Royce Ghost.
Comparables
Mercedes S Class
,
Audi A8
,
Jaguar XJ
, Bentley Continental Flying Spur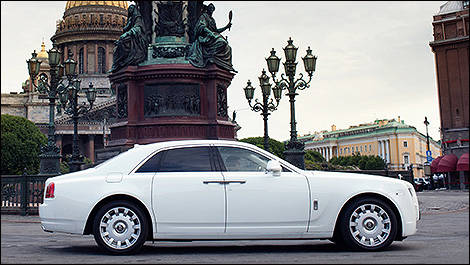 Photo: Rolls-Royce
2013 Rolls-Royce Ghost Extended Wheelbase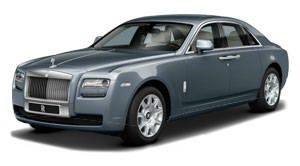 2013 Rolls-Royce Ghost Extended Wheelbase