To dream is human
The day before I was handed the keys to the new
2014 Audi RS 7
, I was made to drive a 2014 Audi R8.
As I arrived in Munich, I partnered up and went off in search of the coveted keys to an R8. Before me lay four sets of keys, three inscribed with "Red V10 Plus" and one with "White 4.2." Hesitation never surfaced as I grabbed one of the 5.2 Plus R8s.
The only catch was that all our luggage needed to fit in the car. Thankfully, our coupes featured a net in the back where our backpacks fit nicely. Our roller bags fit snuggly in the front trunk, and moments later we were tearing up the Autobahn.
The
2014 Audi R8
is fresh from a mild facelift, not that the instantly recognizable R8 ever needed one. With it, Audi added a few extras to the car including the Plus package which adds an extra 25 horsepower for a total of 550, standard carbon ceramic brakes, 7-speed S-tronic, and a few other goodies.
The temptation to rip through the gears and topple the 200 km/h mark proved impossible to resist. In no time at all, literally, we were coasting around 225 km/h and eventually hit 250 km/h when traffic cleared up.
The R8 is a phenomenal car, another to have
broken the supercar mould
.
With more grip than one needs outside a race track, more braking power than a Boeing 787, and steering more precise than a surgeon's scalpel, the 2014 Audi R8 V10 Plus is as good to drive as it is to look at.
And on that note, please enjoy this picture gallery taken on the road from Munich to Nekarsulm where Audi builds these fantastic cars, as well as the RS 7.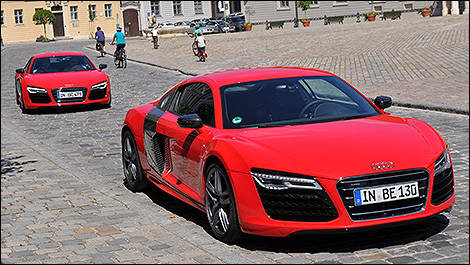 Photo: Mathieu St-Pierre