As a young boy, like many young boys before me and today's, I had my bedroom walls covered in car posters of various shapes and sizes.
A fair number of these posters were of supercars, and a few of my personal favourites were the Ferrari 512 BB and 288 GTO, the Porsche 959, and the Lamborghini Countach. One day, in 1989, I added a poster of a Japanese car that broke the mould: the 1990 Acura NSX.
Although it looked the part, the car was different. To the untrained eye, the NSX resembled the others, but it did not have a V12 or a turbocharged flat-6; all it offered up was a V6 with less than 300 hp. As well, it did without the exotic car sticker of well over $100,000.
The
Acura NSX
rapidly became a legend and brought some serious street cred to the brand. Sadly, most of it is now gone despite the car's intended return -- but that's another story that's already been told.
Fast-forward 20 years, and another carmaker created something super nearly out of the blue.
Audi's R8
landed on the supercar scene, and just like the NSX before it, threw nearly every established supercar a serious curveball.
In no time flat, Ferrari, Lamborghini, Pagani, and Porsche (to a slightly lesser extent) no longer held the most compelling way to burn through some cash in order to look dapper at the wheel of a car. And not only that: A supercar could once more be purchased for a decent price, or less than half the entry fee of an average new Ferrari.
Back to Porsche for a moment: Despite being one of my favourite brands, its success has made it seem more attainable, and therefore less exotic. This is the only reason for my comment. More likely than not, I would plunk down a large chunk of change on a 991
911 Carrera
given the opportunity.
The Audi R8 is exclusive. It has only been on the market for a few years, and it's far from commonplace. The glamorous, even outlandish design, rear mid-engine under glass configuration, and outright performance make it a thinking man or woman's supercar.
Clearly, I'm not saying that the R8 can replace a Ferrari F12 or Lamborghini Aventador; I'm simply stating that with the money saved by purchasing an R8, one could also grab a 911 and a
Mercedes-Benz E 63 S-AMG Wagon
-- with some change left to put gas in all the cars.
The new mould involves getting more car -- and cars -- for the money. I'm all for it.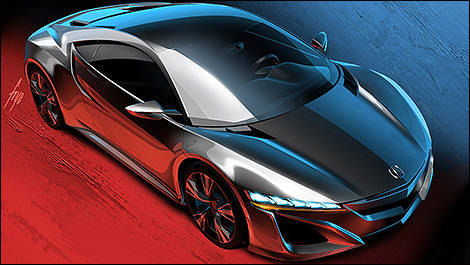 Photo: Acura