Pros:
The all-new 2014 Bentley Flying Spur V8 (despite dropping "Continental" from its name, the platform is the same) presents a muscular, yet elegant, exterior design. Inside, Bentley's famous craftsmanship is evident throughout, while touchscreen access to the latest in-car technology is provided for both driver and passengers. You can also expect ultra-high levels of luxury, comfort, and power. Likewise, consider the Flying Spur V8 if you're looking for good fuel economy from a Bentley.
Cons:
While technically the most affordable 4-door Bentley in the lineup, this car's still expensive, even by luxury standards. Its sheer size also requires care and patience when driving in tight spots.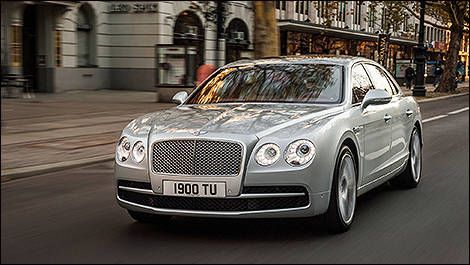 Photo: Bentley
2014 Bentley Flying Spur V8 Price:
Contact your local dealer for detailed pricing.
2014 Bentley Flying Spur V8 Fuel Economy:
The official ratings for the Flying Spur V8 have yet to be announced, but they should be similar to those of the Continental GT V8 coupe, which burns 13.7L/100km in the city and 8.3L/100km on the highway. Credit goes to fuel-saving features like cylinder deactivation, intelligent thermal management, and electrical recuperation.
Improvements and Changes:
Complementing the flagship, W12-powered Flying Spur, the new V8 sedan provides the opportunity to experience the Flying Spur's unique blend of sculpted, sleek coachwork, exquisite craftsmanship, and advanced on-board technology. It will draw new customers to Bentley, looking to upgrade from a premium sedan.
Subtle styling differentiates the Flying Spur V8 from its W12 sibling. Figure of eight chromed exhaust finishers evoke the alternative powertrain, while the famous Bentley winged badge receives the usual red centre to denote the V8 engine.
2014 Bentley Flying Spur V8 Powertrain:
The 4.0L twin-turbocharged V8 engine under the hood produces 500 of power and 487 lb-ft of torque. Coupled with Bentley's renowned all-wheel drive system and a smooth, quick-shifting, 8-speed automatic transmission, it delivers exhilarating performance (0-100 km/h in 5.2 seconds; top speed of 295 km/h). Said all-wheel drive system employs an advanced Torsen differential and a 40/60 rear-biased torque split.
Don't miss:
Buyers who want a little more luxury can opt for the Mulliner Driving Specification which adds, among other bespoke features, diamond-quilted leather, an indented leather headliner, power rear seats, and 20" wheels.
Safety:
The 2014 Bentley Flying Spur V8 comes standard with a full suite of airbags and electronic nannies including front, side, and curtain airbags, as well as anti-lock brakes, traction and stability control.
Comparing the 2014 Bentley Flying Spur V8:
Rivals include the Aston Martin Rapide S, Audi RS7 and A8 4.0T, BMW M6 Gran Coupe and 750Li xDrive, Jaguar XJR, Lexus LS 600h L, Mercedes-Benz CLS 63 AMG and S 63 AMG, as well as the Porsche Panamera Turbo.