Subtle Elegance
The modifications and updates applied to the 2014 BMW 5 Series are quite subtle. They include standard xenon adaptive headlights, restyled front grille, elegantly contoured taillights and automatic glare-free High Beam Assistant.
Price
The BMW 528i starts at $56,695. An additional $2,400 is required to purchase the all-wheel drive 528i xDrive.
The BMW 535i xDrive is available at a starting price of $64,900. The 550i xDrive starts at $75,900.
The ActiveHybrid 5 has a MSRP of $71,150.
Fuel Economy
The rear-wheel drive 528i consumes 8.5 L/100 km city and 5.7 L/100 km highway.
The all-wheel drive version consumes an extra 0.5 L/100 km.
The 6-cylinder 535i xDrive consumes an estimated 9.8 L/100 km city and 6.5 L/100 km highway.
Estimated fuel consumption for the V8 engine is between 12.7 L/100 km and 13.2 L/100 km city and 7.9 L/100 km and 8.3 L/100 km highway.
Exterior Styling
The BMW 5 Series sedan is a classic. The somber and fluid design, which has passed the test of time, belies its sporty demeanor.
Drivetrain
The German manufacturer offers a choice of three engines. A turbocharged 2.0-liter 4-cylinder that delivers 241 hp and 258 lb-ft torque is installed under the hood of both 528i and 528i xDrive.
The 535i XDrive is powered by a turbocharged in-line 6-cylinder that produces 300 hp and 300 lb-ft torque.
A hybrid option is available. It consists of this same 6-cylinder engine combined to a 55 hp electric motor for a total of 335 hp, which is delivered to the rear wheels.
Last, but not least, a twin-turbo 4.4 liter V8 can be found under the hood of the 550i. This engine delivers 400 hp and 450 lb-ft torque. These engines are all mated to the same 8-speed automatic transmission with manual mode.
Cargo Capacity
The trunk can hold 520 liters of cargo.
Safety
This model is equipped with six airbags and numerous standard and optional safety features.
Comparable Models
Acura RLX
, Audi A6, Cadillac XTS, Infiniti M, Jaguar XF, Lexus GS,
Lincoln MKS
, Mercedes-Benz E Class,
Volvo S80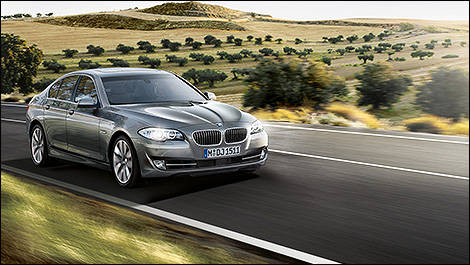 Photo: BMW
2014 BMW 5 Series