* Note: This preview doesn't include the X5 M, which has yet to be redesigned.
Pros:
The 2014 BMW X5 is the result of two generations of refinement. It isn't radically reformed, but didn't need to be. A highly profitable vehicle for BMW, the American-built X5 is also a dynamically and aesthetically pleasing crossover with enough travel amenities and off-road equipment, not to mention advanced technologies (including three superb engines), to justify its price.
Cons:
Like many German products, however, the 2014 BMW X5 may suffer from electronic problems and other reliability issues. It's a pretty heavy vehicle, too, which carries a penalty at the pump. What's more, the long list of options can seriously hurt your bank account.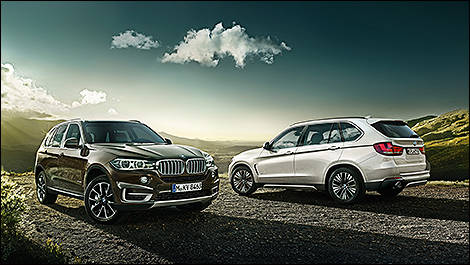 Photo: BMW
2014 BMW X5 Price:
Buyers have a choice of three models:
X5 xDrive35i at $62,900;
X5 xDrive35d at $64,400;
X5 xDrive50i at $76,500;
2014 BMW X5 Fuel Economy:
The official combined city-highway ratings are 7.6L/100km for the diesel-sipping xDrive35d, 9.6L/100km for the standard xDrive35i, and 12.2L/100km for the more powerful xDrive50i.
Improvements and Changes:
The 2014 BMW X5 has been fully redesigned. Evolutionary in nature, it features updated styling, revised engines, and slightly more interior space.
2014 BMW X5 Powertrain:
Two 3.0L inline six-cylinder turbocharged engines are available, including a 300-horsepower gasoline version and a 255-horsepower diesel unit producing 413 lb-ft of torque. Then there's a 4.4L twin-turbocharged V8 engine that cranks out 445 horsepower. All are mated to an 8-speed automatic transmission.
Cargo Capacity:
The cargo area expands from 620 to 1,750 litres when you fold the rear seats.
Safety:
ABS, brake assist, electronic brake force distribution, stability control, and traction control all come standard. Head-up display, night vision, adaptive cruise control, park assist, high-beam assist, and various camera systems around the vehicle are some of the advanced features available to boost safety.
Comparing the 2014 BMW X5:
Other medium-to-large luxury crossovers worth checking out include the Acura MDX, Audi A7, Cadillac SRX, Infiniti QX60/QX70, Range Rover Sport, Lexus RX/GX, Mercedes-Benz ML, Porsche Cayenne, Volkswagen Touareg, and Volvo XC90.