Pros:
Buy the 2014 Chevrolet Camaro if you're looking for a genuine American sports coupe that offers plenty of selection, acceleration, and recognition, not to mention the added confidence of top-notch safety features. Performance enthusiasts will love the ZL1's infernal V8, while the frugal V6 will help you save money at the pump.
Cons:
Skip the Camaro if you're after something extremely small, light and nimble. Despite providing a lot of grip and handling prowess, it's a big, heavy car and drives like one. What's more, the rear seats and trunk opening are tight, visibility is poor, and the steering wheel should be revised.
2014 Chevrolet Camaro Price:
Pricing for the 2014 Camaro lineup was not available at the time of writing.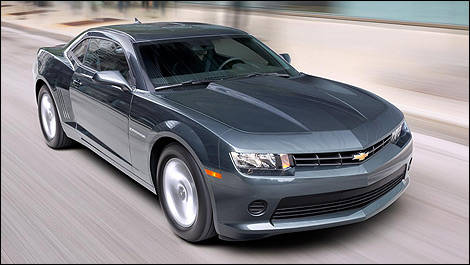 Photo: Chevrolet
2014 Chevrolet Camaro Fuel Economy:
With no changes to the powerplants, expect the same ratings as last year. Thanks to a direct-injected V6, the Camaro burns as little as 6.6L/100km on the highway in its most fuel-efficient setup.
Improvements and Changes:
The most significant styling update since the launch of the fifth-generation Camaro in 2010 includes high-performance aerodynamics for more efficient cooling and stability at high speeds. Compared to the previous model, the design represents a strong visual change front and rear, resulting in a wider, lower, more contemporary appearance. The headlights and taillights sport a new shape, too, while Recaro front seats are now available in SS trim and standard in the ZL1.
Of course, the biggest news for 2014 is the return of the popular Z/28 -- the lightest and most track-capable Camaro ever. This one receives the outgoing Corvette Z06's 7.0L V8, a full aerodynamics package, as well as unique braking and suspension components. It's scheduled to hit the market this spring.
Powertrain:
The base LS and LT models get a 3.6L V6 that produces 323 horsepower. SS models benefit from a 6.2L V8 generating up to 426 horsepower. The extreme ZL1 adds a supercharger and other high-tech bits to destroy the road with 580 ponies and 556 lb-ft of torque.
All Camaros are rear-wheel drive, and most can be specified with a 6-speed manual or automatic transmission (Z/28: manual only).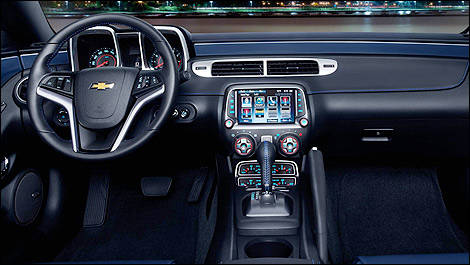 Photo: Chevrolet
Cargo Capacity:
The 2014 Chevrolet Camaro's trunk can hold up to 320 litres of cargo.
Safety:
Standard equipment includes stability and traction control, OnStar assistance, and six airbags. Some of the higher trim levels stand out with high-performance Brembo brakes.
Comparing the 2014 Chevrolet Camaro:
The Camaro's arch nemesis is the Ford Mustang, but let's not forget other great coupes such as the Dodge Challenger, Hyundai Genesis Coupe, and more upscale models like the Audi A5.