Chevrolet, a long-time partner of toy car manufacturer Hot Wheels, has just announced it will produce a special, full-size Hot Wheels 50th Anniversary Edition of the Camaro in 2018.
The Camaro was one of the original 16 cars included in the very first Hot Wheels set brought to market in 1968. A half-century later, this commemorative edition of Chevrolet's legendary muscle car will render homage in full scale to its toy car version, complete with a Crush orange exterior paint scheme, stripes replicating the beloved Hot Wheels tracks and more.
Satin Graphite finish will also be present on the aerodynamic add-ons on the lower body, as well as on the 20-inch wheels. Orange brake calipers, dark taillights and several "50th Anniversary Hot Wheels" badges will complete the unique and evocative look of the exterior, while inside the Jet Black leather upholstery will be contrasted with exclusive orange inserts and stitching.
"In the 1960s Hot Wheels and Camaro challenged vehicle design by elevating the speed, power and performance of both die-cast and pony cars alike. For 50 years, both brands have developed high-performance cars that embody the challenger spirit. We're thrilled that fans can now experience the essence of Hot Wheels in this special edition Camaro."

- Chris Down, senior vice president and Global Brand GM, Hot Wheels.
Availability of the limited edition has not yet been confirmed for Canada, unfortunately. In the United States, the 2018 Camaro Hot Wheels 50th Anniversary Edition package will be offered with the Camaro 2LT and 2SS coupes and convertibles and cost $4,995 US.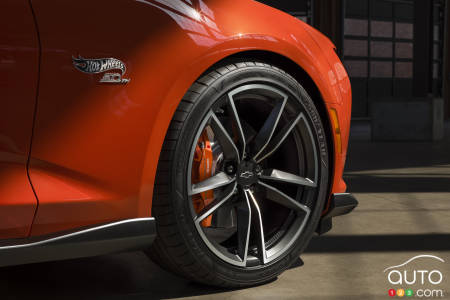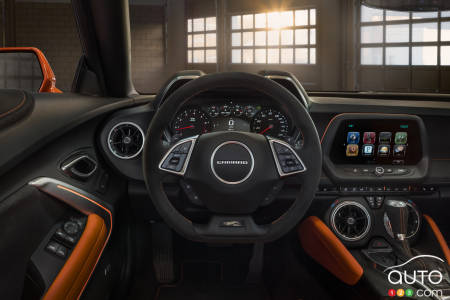 The only thing left for customers to do will be to build a giant Hot Wheels track, complete with loops and jumps, like this one from the X Games: