Highlights*
Versatility, increased passenger room and cargo capacity, easier access, and sliding rear seats make the 2014 Fiat 500L (long wheelbase) a hip new alternative for small families.
Lowlights*
The Fiat 500's charm has somewhat been lost in the process, interior trim quality fails to impress, and the extra size increases weight transfers and body roll in certain situations.
Pricing
While pricing for the 2014 Fiat 500L has yet to be announced, you can bet that it will undercut its main rival, the
MINI Cooper Countryman
.
Key upgrades
The 500L stands out from the regular
500
in a number of ways. As mentioned, the rear seats independently slide fore and aft, for either maximum cargo or legroom.
Styling
Taller and beefier, the 2014 Fiat 500L shares many similarities with the 500, starting with a minimalist front grille and round headlights. The rising beltline and squared-off, sloping roofline add some flair to the profile. At the same time, the 500L is 60 cm longer, 15 cm wider and 17 cm taller than the regular 500.
Fiat loves customization, and so do 500 buyers. More than 330 colour combinations and options are available with the 2014 Fiat 500L.
Cargo capacity
With 42% more interior room overall, the larger Fiat 500L can swallow up to 400 litres of cargo. Drop the seats, and that number jumps to 1,308 litres. Moreover, the front passenger seat folds flat to accommodate long items inside the car.
Powertrain
The 2014 Fiat 500L gets the same 1.4L turbocharged 4-cylinder engine as the current
Abarth
model. Expect 160 horsepower, along with 184 lb-ft of torque. Available transmissions include a 6-speed manual (standard) and a 6-speed, dual-clutch unit (optional).
For now, the company has only announced a FWD version. However, a Fiat 500L AWD is reportedly being developed as you read these lines.
Lineup
In addition to the base model, the 2014 Fiat 500L will offer a Trekking model in the near future. Look for more adventurous styling, increased ground clearance, 17" wheels, and black accent cladding.
Sales forecast
Fiat executives are confident that this new 500L will double the automaker's sales in North America.
Competitors
MINI Cooper Countryman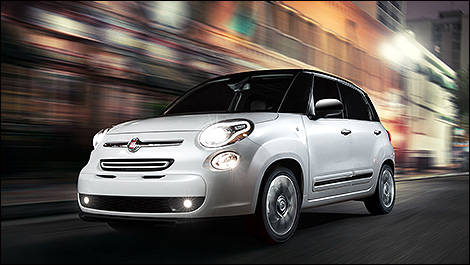 Photo: Fiat
* Based on expert reviews
2014 Fiat 500L Pop