Pros:
The 2014 Ford F-150 SVT Raptor is unlike any other pickup on the market. As the very definition of ''rugged,'' this beast of a truck delivers big-time thrills and chills with a 411-horsepower V8 engine and beefed-up suspension that can take you far away from the beaten path. At the same time, quality abounds inside, and a few extras make it even cooler.
Cons:
The price is not in everyone's reach. For all its amazing off-road potential, the SVT Raptor suffers from a harsh ride on regular pavement. And as you can imagine, fuel consumption is scary-high.
2014 Ford F-150 SVT Raptor Price:
You can buy a new SVT Raptor for $56,799. Two graphics packages, a luxury package, and a trailer tow package are available.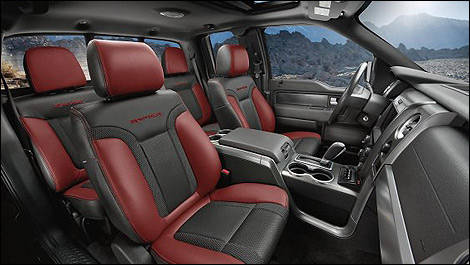 Photo: Ford
Fuel Economy:
The 2014 Ford F-150 SVT Raptor is awfully thirsty, burning 18.5/L100km in the city and 12.8L/100km on the highway. What about off-road? Well, you'll have to experience it to get an idea.
Improvements and Changes:
There's a new special edition package that includes unique 17'' wheels, boxside graphics and interior trim pieces, as well as Brick Red seat bolsters with black seat inserts.
2014 Ford F-150 SVT Raptor Powertrain:
The 6.2L SOHC V8 engine under the hood produces 411 horsepower through a 6-speed automatic transmission with manual mode. Of course, a 4-wheel drive system is standard fare.
Capacities:
When it comes to towing heavy loads, the SVT Raptor can pull up to 3,629 kg (8,000 lbs).
Safety:
The 2014 Ford F-150 SVT Raptor comes standard with ABS, brake assist, electronic brake force distribution, stability control, and traction control.
Comparing the 2014 Ford F-150 SVT Raptor:
This high-performance, off-road variant of the legendary F-150 has a big edge over conventional half-ton trucks like the Chevrolet Silverado, GMC Sierra, Nissan Titan, Ram 1500, and Toyota Tundra.